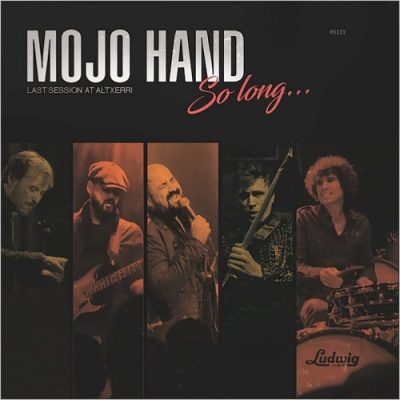 Artist: Mojo Hand
Album: So Long
Label: Gaztelupeko Hotsak
Year Of Release: 2023
Format: FLAC (tracks)
Tracklist:
1. She Caught The Katy (Live) (3:40)
2. The Hunter (Live) (3:39)
3. Bad Case Of Love (Live) (3:31)
4. Walkin' The Dog (Live) (2:52)
5. The Long Road Of Love (Live) (3:33)
6. Stepin' In (Live) (3:53)
7. Slip In Mules (Live) (2:54)
8. I Need Your Love (Live) (4:39)
9. Hot Little Mama (Live) (3:01)
10. Can I Get A Witness (Live) (2:52)
11. You Don't Have To Go (Live) (6:04)
12. Nigh Out (Live) (6:51)
13. What About Love (Live) (3:01)
14. Such A Night (Live) (4:30)
15. It's All Over (Live) (3:01)
16. Carol (Live) (4:53)
In recent years, Basque Country together with record label Gaztelupeko Hotsak, have been providing interesting musicians and bands to the national music and blues scene This is the case of Mojo Hands, a band where each musician contributes with his eagerness and good technique to round up a common project, like this new album Gorka Azpiroz on vocals, Jon Aira on guitar, Paul San Martin on piano and Hammond, Fernando Neira on bass and Karlos Arancegui on drums take advantage of this recording to dive themselves with a daring attitude to perform a repertoire including ten well chosen, personal and well done versions, coming from artists ranging from BB King to Rufus Thomas, Sam Taylor, Taj Mahal or Chuck Berry among others, also adding a band own composition entitled Dead Husband In short words, we are facing an honest bubbling work, developed with sincerity and leaving aside those false studio fantasies, an attitude that will likely open many doors to this group which displays their blues in a restrained way, with no musical fireworks and a remarkable good taste.