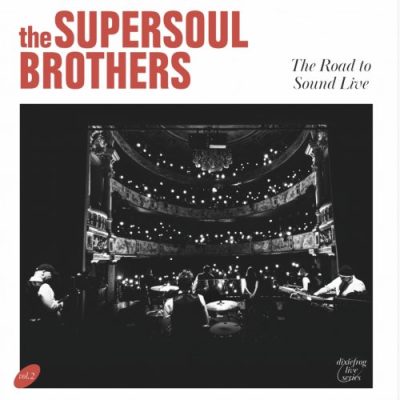 Artist: The Supersoul Brothers
Album: The Road To Sound Live
Label: Dixiefrog
Year Of Release: 2023
Format: FLAC (tracks)
Tracklist:
1. Ain't That a Lot of Love (3:42)
2. Common People (2:58)
3. Don't Lockdown Your Heart (3:52)
4. Only Love (3:13)
5. Jerkin' The Dog (6:11)
6. How Shall We Dance Life ? (2:32)
7. Comin' Home Baby (3:35)
8. Clean Up Woman (3:20)
9. Rose (3:24)
10. Supersoul (2:59)
11. Is It Because I'm Black (7:11)
12. Mr. Big Stuff (3:58)
13. Girl Bait (8:57)
14. Shadows & Lights (4:22)
15. Heroes (4:36)
Daddies of riff, shuffle, southern swing, with backbeat and chicken funk spiel, all very much "Sons of Memphis", these six established performers, in the pure Stax/Atlantic style, produce a profound Deep Soul, held together by a hot and groovy bass, a V8 drumbeat, a possessed trombone, a charismatic and powerful lead vocal, and a roaring Hammond Leslie united with the spring reverb guitar and its 60″s tremolo. Zoot suit, black and white Derbys, dark glasses, this Take 6 knows the song, the story and all the strings of the Soulman with that little added extra, the irresistible French touch embellished by their roots in the Bearn, in the Pyrenees.This energetic combo creates fireworks on stage and through them Deep Soul remains what it has always been, a music of hope! Of sharing! Music of the soul! The soul revelation of 2021/2022!! The SuperSoul Brothers began in 2016 as a quartet (bass, drums,guitar, vocals) working relentlessly through the year, with rehearsal after rehearsal. In 2017 came their first concert. The keyboards arrived in 2018. The final balance came in 2019 with the arrival of the trombone. Take 6 was the magical formula. In 2020 their first album, "Shadows and Lights" was written and recorded old-school style. That summer, they fronted the NEG "MARRONS at the Pau Summer Festival. In 2021 they signed with Dixiefrog Records and released their first global album, "Shadows and Lights". The newly created stage show, "Soul Revue" is ready to roll.