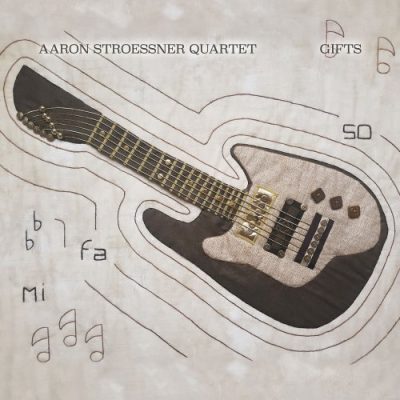 Artist: Aaron Stroessner Quartet
Album: Gifts
Label: Noray Eel Music
Year Of Release: 2022
Format: FLAC (tracks)
Tracklist:
01. Be Still
02. Wonder
03. Merry Go Round
04. Sit Back
05. Lost
06. Quarter Blues
07. V.A.D.
08. Wild West
Almost everyone has some sort of natural gift, but what we do with these gifts is what makes the difference. Guitarist and composer Aaron Stroessner is well aware of this concept, and it is the central focus of his album Gifts. This is an excellent jazz album and a fitting tribute to his parents, in recognition of the gifts they passed down to him over the years.
The album's title actually has a double meaning. The front cover shows a quilt his mother made, and the back shows a wooden bowl his father made. These are literally gifts he received from his parents, but they also serve as a metaphor for the other things he received from his parents which enriched his musical life.
Stroessner's jazz journey has a few more twists and turns than usual. He earned a Bachelor of Music at Berklee College but, instead of getting into jazz, like many of his classmates, he decided to join a rock band. For nearly a decade, he fronted Dead Left, which he describes as a "country/punk/grunge/pop" group.
After Dead Left released four CDs, Stroessner decided to continue his education and return to his jazz roots. He earned a degree in jazz from New York University. He later moved to Nebraska to earn his DMA degree in Jazz Guitar from the University of Nebraska. He now serves as a professor of music at Nebraska Wesleyan, Wayne State College, Southeast Community College, and Iowa Western Community College.
Considering his rock resume, there would be little surprise if Gifts was a jazz fusion album. While he is no stranger to fusion, much of the music on Gifts concentrates on more traditional ballad sounds and straight-ahead jazz. There are also a few more modern-sounding songs included, which help give the album a nice stylistic variety.
Although these are all original compositions, many show the influence of classic jazz artists. It is obvious that Stroessner has devoted a good deal of time over the years listening to and learning from the masters. This also adds to the underlying gift concept.
Gifts features Stroessner on guitar with Kevin Lloyd on keyboards and accordion, Andrew Mell on bass, and Andrew Wray on drums. The band obviously has strong chemistry, and the level of musicianship is impressive.
The album's instrumentation also brings out a unique quality in each song. For example, the opening track, "Be Still," features Stroessner's melodic guitar balanced with Lloyd's cool organ sound, creating a somewhat reflective and nostalgic feel. In contrast, songs such as "Sit Back" and "Quarter Blues" offer soulful grooves which not only show how tight the players are as a group but also how talented they are at improvisation.
Other compositions have a more modern sound. "V.A.D.," with its Latin-tinged beat, lets Stroessner stretch out with some tasty licks which are clearly done in his own unique style. The song "Merry-Go-Round" features Lloyd's Fender Rhodes playing alongside Stroessner's guitar, creating an uplifting seventies-era feel.
Stroessner's Gifts delivers on all levels. Rather than trying to sound like jazz guitar legends, he builds from their influence to develop his own style. This is an album which bears repeated listening. It is clearly a very personal album for Stroessner, but his musical gifts will resonate with anyone listening.