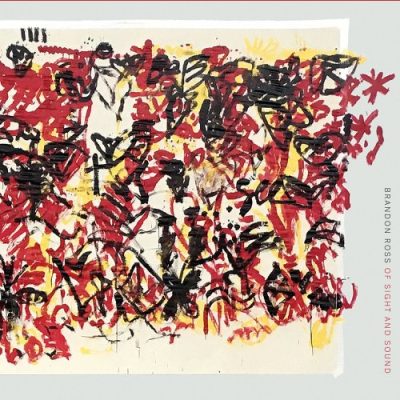 Artist: Brandon Ross
Album: Of Sight and Sound
Label: Sunnyside Records
Year Of Release: 2023
Format: FLAC (tracks)
Tracklist:
1. Toil, Pt. I (11:58)
2. Toil, Pt. II (2:44)
3. Toil, Pt. III (5:30)
4. First Yellow Icon (12:34)
5. A bed of Red Dreams (4:06)
6. Black Prelude (2:41)
7. Black Illumination (7:00)
8. Of Sight and Sound (9:59)
Personnel:
Brandon Ross – electric guitar
Kevin Ross – bass guitar
Hardedge – soundesign
Chris Eddleton – drums
Ford Crull – painting
Collaborations between artists specializing in different mediums regularly bring out facets and revelations unknown to the participants theretofore. Utilizing sonic and visual elements to stimulate creation, guitarist, conceptualist Brandon Ross and his ensemble, PENDULUM, met Neo Symbolic Abstract painter Ford Crull to generate what Ross calls a sonic mandala on their new recording/multi-media piece, Of Sight and Sound.
Ross is no stranger to cross-disciplinary work. His relationship with Crull developed after they met in a spiritual study group. Their interest in each other's work developed over their years of friendship. In 2012, Ross was asked to put a group together to play at the Jalopy Theater in Brooklyn. Ross decided this was an opportunity to work with Hardedge, a sound designer whose sonic art would be central to the aural landscape. Ross also recruited his brother, bassist Kevin Ross, and drummer Chris Eddleton. PENDULUM was born.
It was during PENDULUM's Nublu residency in New York City in 2015, that Crull heard the group. He was impressed by the ensemble and likened their sounds to what he imagined Jimi Hendrix might have evolved into. Crull proposed a project where he would paint blindfolded to Ross's music. The idea intrigued Ross and they theorized on how best to carry this project through. First, they tried taking away the prime senses needed by the respective artists, namely the painter's eyes and the musicians' ears. Though not completely successful, it brought all involved a clearer idea of what was needed.
The field of creation expands when there is a self-imposed limitation. Their experiments also revealed an altered experience of chronological time. Blindfolded and working across a 25 by 6-foot expanse of white paper, after having been surrounded by "amniotic" waves of sound as he worked, Crull emerged as if he had been in space or a trance. The musicians utilized Crull's work-in-progress for directionality, as a graphic score, each interpreting it in their own way, an approach allowing for four separate, simultaneous interpretations, each influencing the painter's process at the same time,
Ross compared the focus and creativity required to that of his work with Conduction creator and musical genius, Lawrence D. "Butch" Morris, where, as an ensemble member he experienced intense concentration – eliciting a similar sensation of time displacements. A rigorous, grounding practice but also transporting.
Crull and Ross presented their work at the Glass Gallery at Mana Contemporary Art in Jersey City, New Jersey on June 9, 2019. The performance was filmed for a documentary and the music recorded by Aaron Spencer.
The painter was blindfolded and worked across a 25 by 6-foot expanse of white paper, going back and forth utilizing three colors: yellow, red, and black. Ford would work from left to right layering one color at a time. The individual members of PENDULUM followed the development of the artist's painting and responded musically at their own discretion.
In the live setting, the sounds and art were real time manifestations that occurred in a little over an hour, combining for a particular time/space experience. Ross remains intrigued with the multidimensional nature in the work, as the painting is now an object, viewable in its entirety in an instant, while the painting's sonic counterpart remains an experience that must be experienced over the same amount of time taken to create it. It remains a journey.
The recording they made was a complete take over the length of their performance. The pieces are only designated as such by Ross's delineation of specific events happening during the performance. "First Yellow Icon" refers to Ross's first engagement with a specific image that Crull created. The names are merely a road map illustrating the evolution of the longer piece.
The series of "Toil" begins in ambient swirls of guitar reverb, cymbals, and electronic haze before pointillistic drums and guitar moans begin to take shape. Ross's warm guitar meets the warbling of Hardedge's electronics on "First Yellow Icon," while "A Bed of Red Dreams" undulates with Ross's bass and guitar. Eddleton sets a more aggressive drum groove on "Black Illumination," setting up a dynamic meeting of the elements. Finally, "Of Sight and Sound" returns to the quiet introspection of ringing guitar tones, brooding bass, twittering electronics and balletic percussion.
Of Sight and Sound is PENDULUM's debut recording and finds the ensemble in a very different situation than most of their performances, where they generally play pieces composed by Ross. Here the group was tasked to self-orchestrate and create their own experience by letting go of preconceptions and moving to articulate the musical opportunities of the present moment.
Tibetan monks create mandalas as visual representations of spiritual sound. With the aid of Brandon Ross and PENDULUM, Ford Crull created a sort of mandala imbued with the group's sonic narrative. Of Sight and Sound brings these sounds to the public, allowing everyone a chance to be enveloped by these tones of creative energies.