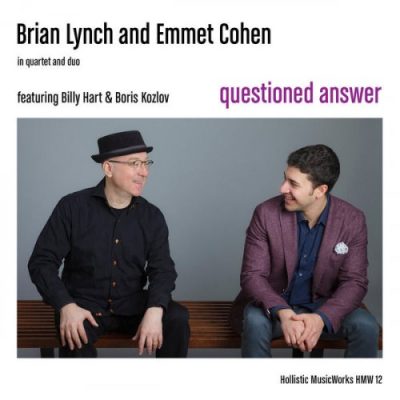 Artist: Brian Lynch and Emmet Cohen
Album: Questioned Answer
Label: Hollistic MusicWorks
Year Of Release: 2014
Format: FLAC (tracks)
Tracklist:
01. Cambios
02. Dark Passenger
03. How Deep Is the Ocean
04. Buddy
05. Distant Hallow
06. I Wish I Knew
07. Petty Theft
08. Just in Time
09. Questioned Answer
10. Blues by Four
Four highly regarded musicians from three different age groups come together for a two-leader session resulting in one terrific album. That's Questioned Answer by the numbers, but there's a lot more to the story than basic numerics.
The partnership between veteran trumpeter Brian Lynch and rising star pianist Emmet Cohen was born out of serendipity and mutual appreciation. Lynch first heard Cohen when they were both working the 2011 Jazz Cruise—the former as a featured soloist and the latter with his trio from the University of Miami's Frost School of Music. Not too long after, Lynch took on the title of Professor of Jazz Trumpet at that fine institution, putting him in a position to work with Cohen—then finishing his undergraduate work—on a regular basis. That's when the seeds of this album were sown.
The album itself is split between duo and quartet performance. The six originals—three from each leader—feature the quartet of Lynch, Cohen, bassist Boris Kozlov, and drummer Billy Hart. Together, that group makes its way through uncertain scenarios ("Petty Theft"), lets a simple and hip groove carry the day ("Buddy"), and swings along with aplomb. Hart always keeps things interesting, alternately adding sounds of stability and surprise; Kozlov provides pointed bass lines that provide architectural undergirding; Cohen comps, locks riffs in with Kozlov, and tosses off imaginative solo statements; and Lynch floats, flies, and bounds along.
The three classics on the program—"How Deep Is The Ocean," "I Wish I Knew," and "Just In Time"—provide a clear look at the musical relationship between Cohen and Lynch as they deliver personalized interpretations of the material sans drums and bass. A wonderful sense of urgency develops during "How Deep Is The Ocean," "Just In Time" proves to be highly playful in nature, and "I Wish I Knew" shows Lynch at his most melodious. Cohen and Lynch may be decades removed from one another, but this album is firm proof that they're on the same page when it comes to music.