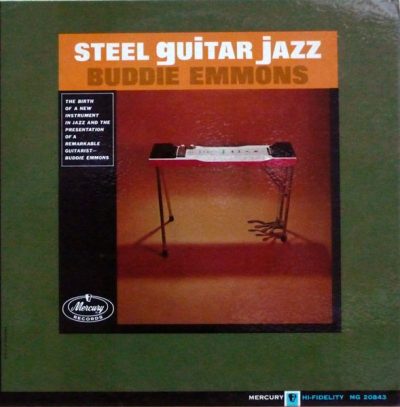 Artist: Buddie Emmons
Album: Steel Guitar Jazz
Label: Mercury / Verve Records
Year Of Release: 1963/2003
Format: FLAC (tracks+.cue)
Tracklist:
01 – Bluemmons
02 – Any Time
03 – Where or When
04 – Indiana
05 – Gravy Waltz
06 – Oleo
07 – The Preacher
08 – Cherokee
09 – Witchcraft
10 – Gonna Build a Mountain
11 – There Will Never Be Another You
Buddy Emmons wasn't the first musician to be featured playing a pedal steel guitar in a jazz setting, but it is unlikely that anyone else recorded an entire date playing one prior to this 1963 session. Although both he and the instrument are indelibly associated with country music, Emmons makes it work for several reasons. He's surrounded by some top players, including Bobby Scott, Jerome Richardson, Art Davis, and Charlie Persip; he also interacts with the band rather than overdoing the special effects available to him, especially the horn-like sounds obtained from his use of the slide. Emmons also chose an intriguing mix of material. Obvious highlights are the loping treatment of "Where or When," featuring Richardson's delicious soprano sax trading off with the leader, and Emmons' hot playing of "(Back Home Again In) Indiana." Equally rewarding are the jazz classics: Ray Brown's soulful "Gravy Waltz," an intricate romp through Sonny Rollins' "Oleo," and Horace Silver's toe-tapping "The Preacher." This was pretty much a one-time affair for Emmons, who returned to country music, though he did record some additional jazz with guitarist Lenny Breau during the 1970s. Although the instrument never really caught on in jazz, this highly recommended album, which was finally reissued on CD in 2003, is well worth checking out.