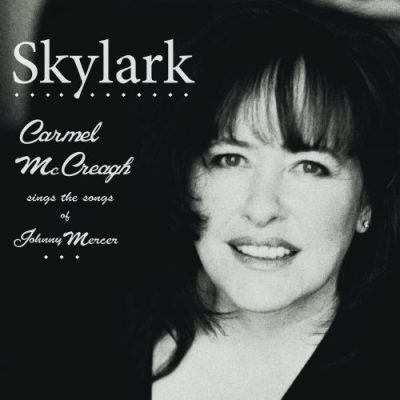 Artist: Carmel McCreagh
Album: Skylark: Carmel McCreagh Sings the Songs of Johnny Mercer
Label: All Time Records
Year Of Release: 2013
Format: FLAC (tracks)
Tracklist:
01. Something Tells Me I'm Falling in Love
02. The Days of Wine and Roses
03. This Time the Dream's On Me
04. Come Rain or Come Shine
05. Empty Tables
06. The Long Goodbye
07. Skylark
08. Trav'lin' Light
09. Drinking Again
10. I Thought About You
11. When a Woman Loves a Man
12. P.S. I Love You
It's the twist in the lyric that makes many songs worth your attention and time; the songs may deliver the same message, but it's the sharp detour away from the middle of the road that sets them apart from the standard and the static.
Singer, occasional songwriter and mother of four Carmel McCreagh knows all about twists and turns. Life, she says as someone who knows only too well about such things, is not a linear journey. Just when you think that the path is smooth and clean, something jagged comes along to trip you up and rip the skin.
So it comes as no surprise that, when looking for repertoire for her second album, Carmel chose songs with lyrics by Johnny Mercer, one of the greatest poet-lyricists of the twentieth century. As with her debut album, Nice Girl, the songs on Skylark — each placed strategically to the next, allowing a narrative flow of sorts — represent a journey. The unifying thread is someone's life. "Relationships are never linear and love is a crazy thing", she says.
"McCreagh's voice is mellow and velvety, rather than-in-your-face, and she effortlessly performs timeless standards such as 'The Days of Wine and Roses', 'Come Rain or Come Shine' and 'Trav'lin' Light', along with some slightly less well-known Mercer compositions, including 'Empty Tables', 'This Time the Dream's on Me' and 'Drinking Again'. Beautifully produced with sumptuous arrangements, Skylark is the perfect late-night album and a fitting salute to one of the songwriting greats." Colm O'Hare, Hot Press
"Carmel's intimate and warm approach does justice to an interesting mix of familiar and lesser-known Johnny Mercer songs on her Skylark album." Jim Simpson, The jazz Rag
"Carmel's done a magnificent job… good songs, smart lyrics, and arrangements to match. Her phrasing is spot on. For me 'Drinking Again' is a performance that from the first note creates its own space and atmosphere, with a kind of edge-of-the-seat delicacy that draws the listener in." Ray Comiskey
"Like a consummate actor, singer Carmel McCreagh gives every lyric its due, so it's no surprise she's chosen the songs of lyricist Johnny Mercer for her second album. Mercer's sophisticated lyrics adorn some of the greatest "standards" in the American Song Book, and some of the best-known are given a dusting down here: 'The Days of Wine and Roses', Come Rain or Come Shine' and 'I Thought About You', not to mention the gorgeous title track… Skylark is balm for the ears and a worthy addition to the songbook canon."