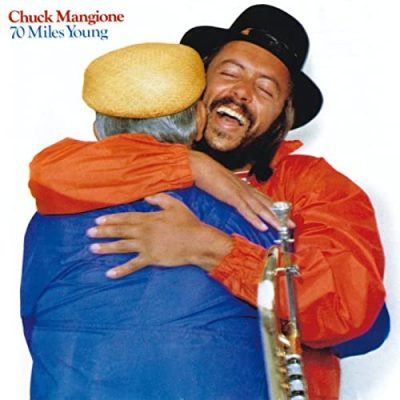 Artist: Chuck Mangione
Album: 70 Miles Young
Label: A&M Records
Year Of Release: 1982
Format: FLAC (tracks)
Tracklist:
01. 70 Miles Young: Introduction
02. 70 Miles Young: Theme 1
03. 70 Miles Young: Theme 2
04. 70 Miles Young: Theme 3
05. Feels So Good
06. Cannonball Run Theme
07. Recuerdo
08. Lullaby For Nancy Carol
70 Miles Young refers to the expansive title piece that dominates this album, a continuous four-movement suite written for Mangione's father, the outgoing Italian gentleman hugging Chuck on both sides of the jewel box. The suite splits into an introduction and three "themes," the first devoted to some straight-ahead bop playing; the second segues into a mild Latin groove, and the third to some drawn-out, somewhat listless jazz-funk where Mangione's horn sounds a bit lost. It's an ambitious piece only in length, for the language is unadventurous and the ensemble's ad lib stretches don't burst any boundaries. The rest of the record is given over to what sounds like a quartet of leftovers reruns of "Feels So Good" (as converted into an excruciatingly slow ballad with lyrics) and "Recuerdo," the so-so theme to Cannonball Run, and a Muzak-smooth benediction, "Lullaby for Nancy Carol." None of the musicians except Mangione are identified on the CD liner; further investigation reveals, among others, Chris Vadala on saxes and flute, John Tropea on guitar, and on "Feels So Good," classical cellist Ron Leonard. In all, a ragtag conclusion to the A&M series.