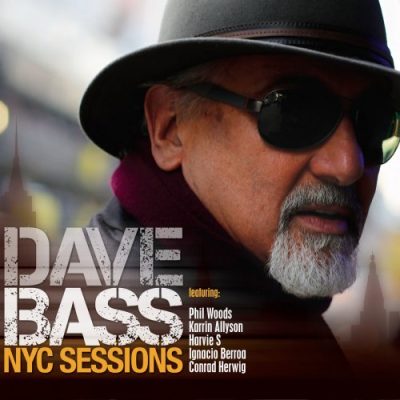 Artist: Dave Bass
Album: NYC Sessions
Label: Whaling City Sound
Year Of Release: 2015
Format: FLAC (tracks)
Tracklist:
1. The Sixties
2. Lost Mambo
3. Endless Waltz
4. La Comparsa – Mi montuno
5. Lost Valentine
6. My Foolish Heart
7. Baltic Bolero
8. Since I Found You
9. Dark Eyes
10. Silence
11. Just A Fool
Personnel:
Dave Bass – piano
Harvie S – bass
Ignacio Berroa – drums
Phil Woods – alto saxophone (1, 2, 7, 8, 10, 11)
Conrad Herwig – trombone (1, 4, 7, 10)
Chris Washburne – trombone (2, 5, 9)
Enrique Fernandez – flute (2, 4, 9)
Carlos Caro – congas, percussion (2, 4, 5, 7, 9)
Karrin Allyson – vocals (3, 5)
Paulette McWilliams – vocals (8, 11)
Gone, pianist Dave Bass' first recording as a leader following a two-decade absence from the music profession, was one of jazz's success stories of 2010, earning critical acclaim and extensive airplay. For the follow-up, NYC Sessions, Bass goes East Coast with a CD recorded in New York City in late 2012. He's joined by bassist Harvie S, drummer Ignacio Berroa, alto saxophonist Phil Woods, trombonist Conrad Herwig, singer Karrin Allyson and others for a set of instrumentals and vocal tunes largely penned by the leader.
Bass demonstrates his love for Latin music, stoked during a period playing on the salsa scene in San Francisco, with a piece allying the Cuban classic "La Comparsa" to his own "Mi Montuno." The group offers two other interpretations: an understated, gently unfolding trio version of "My Foolish Heart," and a mellow, Latin-tinged take on "Dark Eyes," with Bass and flutist Enrique Fernandez harmonizing and bassist S offering a fleet-fingered high-register solo.
Bass' originals reflect the amalgam of influences on his playing over the years, starting with the swinging hard bop of the opener, "The Sixties," which offers the first of several pithy solo spots for Woods and Herwig. Allyson changes the temperature of the room when she arrives, adding considerable warmth to two love songs, "Endless Waltz" and the atmospheric, moody "Lost Valentine," an update of an instrumental first heard on Gone. The same might be said of "Since I Found You," another instrumental from Gone reborn as a vocal track, with singer Paulette McWilliams. The 11-song program closes with "Just a Fool," a gospel-edged bluesy tune in the Ray Charles mold, also featuring McWilliams and Woods. NYC Sessions is nothing if not finely wrought and well rounded.