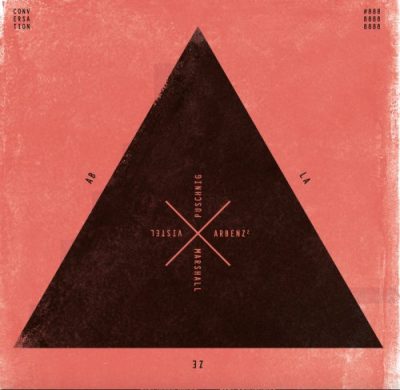 Artist: Florian Arbenz, Wolfgang Puschnig, Jorge Vistel
Album: Conversation #8: Ablaze
Label: Hammer Recordings
Year Of Release: 2022
Format: FLAC (tracks)
Tracklist:
01 – Catch Me If You Can (7:48)
02 – Rivulets (7:21)
03 – Choral (6:20)
04 – The Mirror (6:30)
05 – Freedom Jazz Dance (4:18)
06 – Wild Flower (5:40)
07 – Insight Straight (6:22)
The eighth installment of Florian Arbenz's Conversations series, 'Ablaze' is set to release on December 9th on Hammer Recordings.
Inspired by his parents' vinyl collection as a young child, the latest offering provides a progressive take on the traditional New Orleans line-up.
Arbenz's propulsive drum grooves lay the foundations alongside British tuba player Oren Marshall, replacing the string bass as was so often the case with those old Louis Armstrong records.
That – and the joyful spirit so prominent in those early recordings, is perhaps where the similarities end, though.
Pianist Michael Arbenz supports a frontline of trumpet and sax whose angular melodies and intricate improvisation make for a world of interesting and rapidly shifting instrumental textures.
"More than 40 years after listening to those records, and with quite a bit of musical experience in my backpack, I came back to this combination of these early jazz instruments – or at least a twist on it – writing my very own music for it".
As the name suggests, 'Ablaze' opens with two tracks of untamed energy and virtuosic jazz musicianship, with the intricate playing of pianist Michael Arbenz opening the door to rich harmony and a more intimate playing style.
Featuring six original compositions as well as an arrangement of Eddie Harris' 'Freedom Jazz Dance', the record is driven in equal parts by sure-footed composition/arranging and fearless improvisation.
Each member of the sextet has an impressive CV of their own – Florian & Michael Arbenz are perhaps best known for their work in Swiss Trio VEIN, Jorge Vistel has toured with musicians including Roy Hargrove, Alfredo Rodriguez and Benny Golson, Wolfgang Puschnig was the founding member of the Vienna Art Orchestra in the mid 1970's, and Oren Marshall has collaborated with the likes of Charlie Haden, Hermeto Pascoal and Radiohead.
Once again – at the 8th time of asking – Florian hosts a fascinating conversation of likeminded musicians who may not otherwise have met.