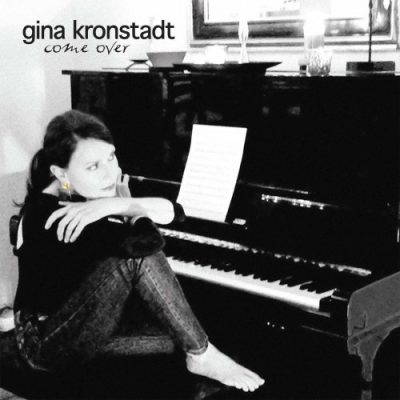 Artist: Gina Kronstadt
Album: Come Over
Label: Falloff Records
Year Of Release: 2013
Format: FLAC (tracks)
Tracklist:
01. Magic
02. Tell Me (Or Not)
03. Come Over
04. Twitter Stole My Boyfriend
05. That Night
06. Turn Around
07. One More Time
08. Just Ask
Everybody wants to be a star and everybody wants their turn in the spotlight. The recent documentary 20 Feet From Stardom focused on the struggles of background singers to emerge from the shadows. Gina Kronstadt can surely identify with that struggle.
Whatever motivated Kronstadt's debut, Come Over, she demonstrates she's ready for her close-up. A veteran studio and concert performer, the Los Angeles based singer and songwriter can boast of an impressive resume performing on film soundtracks, television commercials, scores, and backing up a multitude of artists including Stevie Wonder, Chris Botti, and Michael Buble.
Kronstadt's skill sets are as an in-demand violinist and a vocalist, but Come Over emphasizes her singing talents as she wrote, composed, arranged, and produced the whole affair. The success of the album is in no small part due to the exceptional support she receives from John Beasley, Christian McBride, Reggie Hamilton and Bob Sheppard among a drum- head tight group of players.
"Magic" is a breezin' jazzer with Kronstadt bopping along to Sheppard's saxophone, McBride's upright bass, Gary Novak's in the pocket drumming and Beasley on Fender Rhodes complimented by the lush, string section conducted by Joel DeRouin. Kronstadt's expressive vocals are well-served by how effectively her arrangements match her talents. The moody, swaying "Come Over" embraces the listener as Sheppard's sax plays off of Kronstadt's sensuous crooning.
The only misfire is "Twitter Stole My Boyfriend,."a sort of half- sung/half-rapped stab at trendiness, but its mostly all lame. It a throwaway tune and one that should have remained buried deep on Kronstadt's hard drive. "That Night" offers a full recovery as her bluesy crooning meshes with another Sheppard sweet sax solo.
Come Over is one of the pleasant discoveries of the summer and leaves a lasting first impression. This is Kronstadt's time in the spotlight and she makes a strong case it is where she has belonged all along.