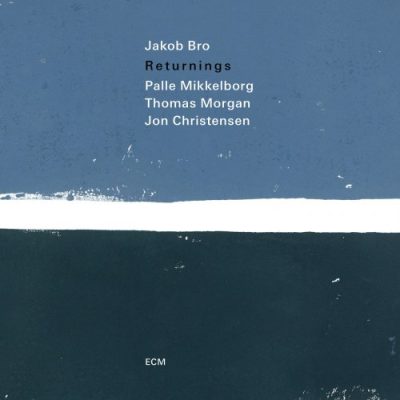 Artist: Jakob Bro
Album: Returnings
Label: ECM Records
Year Of Release: 2018
Format: FLAC (tracks)
Tracklist:
1. Oktober 04:19
2. Strands 04:43
3. Song For Nicolai 05:20
4. View 08:42
5. Lyskaster 05:03
6. Hamsun 05:14
7. Returnings 05:38
8. Youth 02:37
Personnel:
Jacob Bro, guitar
Palle Mikkelborg, trumpet, flugelhorn
Thomas Morgan, double bass
Jon Christensen, drums
"Danish guitarist Jakob Bro creates magical music, impossible to categorize", wrote Downbeat recently. On 'Returnings' the magic is intensified as Bro and musical soul-mate Thomas Morgan reconnect with two living legends of European jazz, trumpeter Palle Mikkelborg and drummer Jon Christensen.
It's an inspired combination: Bro's watercolour guitar sounds, Mikkelborg's soft Milesian lugelhorn, Morgan's impeccable choice of notes, and Christensen's free-floating drumming. These components add up to one of the prettiest and subtlest jazz albums of recent times.
The theme of "returnings" is central. The album opens with a new version of "Oktober", picking up the story from Bro's album 'Gefion'. In recent years, Jakob's trio with Thomas Morgan and Joey Baron has, happily, gained a strong following. Meanwhile, the guitarist had also been looking for a context in which to continue his association with Jon Christensen ? which 'Returnings' provides. It also reunites Christensen with Palle Mikkelborg for the first time on ECM since Terje Rypal's 'Vossabrygg' (recorded in 2003).
"Returnings" was recorded in July 2016 at Oslo's Rainbow Studio and produced by Manfred Eicher.