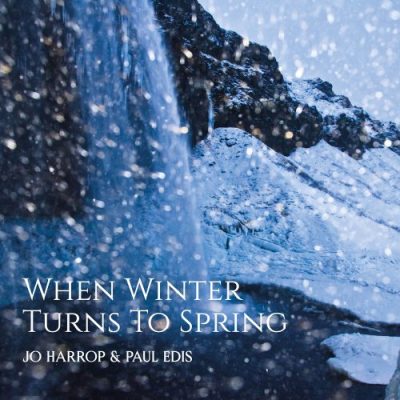 Artist: Jo Harrop & Paul Edis
Album: When Winter Turns to Spring
Label: Lateralize Records
Year Of Release: 2022
Format: FLAC (tracks)
Tracklist:
01. Short Story
02. Umbrellas in the Rain
03. A Perfect Winter's Day
04. Winter Love Affair (One Day Soon)
05. A Child is Born
06. New Year, New You
07. Breathing
08. In the Bleak Midwinter
09. Only Spring Will Decide
10. When Winter Turns to Spring
11. Spring Put the Swing in My Step
Lateralize Records are proud to announce the release of When Winter Turns To Spring – the first album by Jo Harrop and pianist, Paul Edis. After receiving unanimous critical acclaim for her solo debut, The Heart Wants, Harrop has spent the last year working in London's Gorilla Studios with Edis and producer, Jamie McCredie, to create this richly textured and reflective journey through the seasons. Seamlessly combining Bacharach-esq chamber pop and sophisticated jazz, When Winter Turns To Spring is a beautiful, wistful album that defies categorisation.
"Most of the songs on this record seem to be about the circle of nature and the cycle of life reminding us that all is not lost," she explains. "Winter is temporary, as is loss, and spring and love will come again.
"We often hear love being compared to the changing seasons. Summertime is associated with romance and joy – mellow and warm. Spring is the season where nature is brought back to life by its welcome kiss, lifting us out of a long, cold and dark winter, which brings lost love or loneliness to mind. It is autumn that brings a bittersweet melancholy to the fore. The colours and romance of autumn co-exist with an inescapable feeling of something slowly dying…the end of balmy summer days with winter looming ahead."
"There are songs about love and loss as well as new life and new hope," adds Edis. "From the romantic album opener, Short Story, which begins in autumn, through to the rather dramatic November scene of a windswept Soho in Umbrellas In The Rain, weather is a common lyrical theme running through these songs, but they are about so much more than they initially appear to be."
Born in Durham and raised on a musical diet of Nina Simone and Aretha Franklin, Jo Harrop moved to London and quickly established herself as one of the most unmistakable voices in British jazz. Having signed to London-based jazz label, Lateralize Records, she released Weathering The Storm, her debut with guitarist, Jamie McCredie, and The Heart Wants, which has received rave reviews everywhere from The Times to The Guardian, been played extensively on BBC 6 Music, BBC Radio 2 and Jazz FM and is currently riding high in the US Jazz Album Charts.
Following a string of rapturously received tour dates which included two sold out shows at Ronnie Scott's, Harrop believes she is now coming into her own both as a singer and as a songwriter.
A perfect blend of originals and timeless perennials framed by Paul Edis' elegant arrangements, When Winter Turns To Spring finds Jo Harrop at the peak of her powers, her beautifully understated smoky voice delicately poised between beguiling sensuality and exquisite fragility.