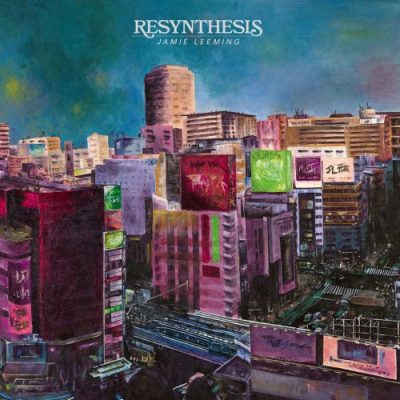 Artist: Jamie Leeming
Album: Resynthesis
Label: Sekito
Year Of Release: 2022
Format: FLAC (tracks)
Tracklist:
1. Shinkansen (4:55)
2. Procession (4:34)
3. Champion (3:40)
4. Long Term Memory (3:25)
5. Zen Garden (6:36)
6. Meditations (1:40)
7. Plateau Trance (4:38)
8. Still Connected (6:14)
Having established himself as one of the most sought-after young jazz guitarists in London, Jamie Leeming has steadily carved out his own musical niche, during his extensive work for the likes of Alfa Mist, Tom Misch and Jas Kayser. His debut EP 'Heartsong' gained support from Jazz London Radio as one of the "Best Jazz Releases of 2015" and his follow-up collaborative album 'Flow' (with pianist Maria Chiara Argirò) received critical acclaim for The Guardian's "Jazz Album of the Month". Leeming now unveils his debut solo long-player 'Resynthesis' via Alfa Mist's Sekito imprint.
Jamie's curiosity has always been a key part of his ever-evolving relationship with music. Whether that be as a teenager and being captivated by the cover of Miles Davis' Bitches Brew in a local HMV, or his fascination with how we experience memories. 'Resynthesis' sees the guitarist creatively hitting his stride and exploring new sonic territories as he takes on the role of producer.
'Resynthesis' was created with the help of a handful of close friends, regular collaborators and some of the tightest young players around, many of whom met at an improvised music night hosted by Hugo Piper (who also plays on Resynthesis) called Champion Sounds. It was at one of these nights that the basis for 'Champion' was formed, plucked from a twenty second snippet recorded on a phone of one of the legendary jams, which has in turn been reimagined on 'Resynthesis' by some of the musicians that were present on the night itself. In addition to the trio instrumentation, Quinn Oulton and Nathaniel Facey lend their skills on saxophone. The album is tied together by artwork from painter and musician Kaya Thomas-Dyke, which includes reference to a number of the memories the album is inspired by.
The record's first single 'Shinkansen' is an elaborate sonic journey featuring legendary UK saxophonist Nathaniel Facey, known for his work both as a leader and member of the multi award-winning quartet Empirical. Leeming recounts 'Shinkansen''s dreamy sounds were "written recalling the scenery during a journey to Tokyo on the Bullet Train whilst on tour". With sinuous sax voicings and enchanting guitar themes, 'Shinkansen' is a magnetic taster to 'Resynthesis'.
'Long Term Memory' hosts Laura Groves' mesmerising vocals, reflecting on the idea of 'home' and, in her own words, "the deep ties that can exist with certain places and the memories attached to them". Intertwined with an intricate drum pattern, the ethereal guitar motif lays a smooth foundation for the soaring melody, producing an enticing piece destined to remain in the listener's long term memory. 'Still Connected' showcases Leeming's intrepid musical character with otherworldly textures. With an absence of percussion, the instrumentation is given space for remarkable rhythmic patterns to awaken the listener's senses.
With the concept of memory acting the omnipresent theme in 'Resynthesis', Leeming set himself a fixed period of time to write an album of songs inspired by specific personal memories, in turn asking; "How do memories relate to our sense of identity and who we are as people? Why do we single out particular memories?" The title 'Resynthesis' itself refers to the reconstructive nature of memory, and how the process of recall can be affected by personal knowledge and views. Although the album largely features the classic format of the jazz guitar trio (guitar, bass and drums), he explores a vast array of ethereal, spacious and contemporary sounds. The songs featured on the album are led as much by tone and feeling as they are by traditional compositional structure or instrumental prowess, yet are expertly balanced with many moments that allow his lyrical style and razor-sharp chops as a guitarist to shine through.