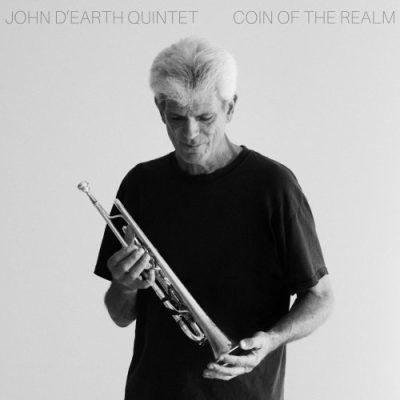 Artist: John D'Earth
Album: Coin Of The Realm
Genre: Hard Bop, Post-Bop
Label: Cosmology Records
Year Of Release: 2023
Format: FLAC (tracks)
Tracklist:
01. Coin Of The Realm
02. The Overture/Shady Jady
03. Mood
04. Signal
05. Dust
06. Knell
07. Sarah's Bracelet
Trumpeter John D'earth's new CD, "Coin of the Realm" (Cosmology Records), assembles some of the best musicians from the RVA-Charlottesville axis for a recording that echoes and updates the approach on classic 1960s Blue Note sessions. The echoes are from the hard bop quintet lineup, with a horn front line that pairs D'earth with longtime collaborator, saxophonist JC Kuhl. Both are capable of ranging from blistering virtuosic lines to introspective melodicism.
The rhythm section is equally adept. Bassist Peter Spaar is totally tuned in to the interplay, illuminating the underlying harmonies. There are few pianists anywhere with a better feel for shaping sophisticated, heartfelt improvisations than Daniel Clarke. And it is always a treat to hear longtime D'earth sideman Devonne Harris on drums. He may be the keyboard heart of Butcher Brown, and to be fair, he is also an able bassist, guitarist, and beat creator, but he remains one of the area's best percussionists.
The multi-section title song refers to the full set of interaction skills the players have honed over years of playing together on Thursday nights at Miller's, the intimate venue on the Charlottesville mall that has been D'earth's home gig for decades. It is the rest of the disc in miniature; starting with a hard-blowing sax over a vamp that segues into a unison horn section, then a lilting melody, a cross-currented, free section into solos that recapitulate the journey, ending again in loose interplay. (D'earth goes through the album, song by song, on the January 31 episode of "100 Years of Jazz" on the University of Virginia's radio station, WTJU.)
While the compositions are all D'earth's, the recording gives ample room for each player to shine. The set is well programmed, starting with a blast, moving post-bop and even a touch of Americana with the enchanting "Moods." It ends with "Sarah's Bracelet," a lovely series of improvisations that start introspectively before being swept up in the joyous pulse of the up-tempo undercurrent.
In sum, "Coin of the Realm" transverses musical landscapes at once fresh and familiar. It's a journey worth taking.