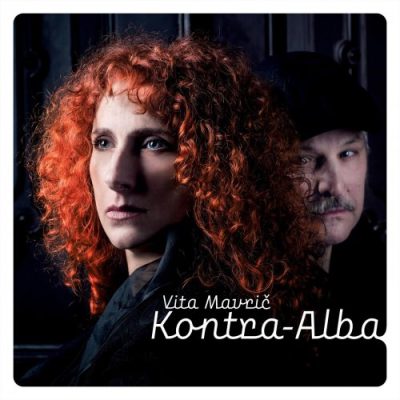 Artist: Vita Mavric
Album: Kontra-Alba
Genre: Vocal Jazz
Label: Teater
Year Of Release: 2023
Format: FLAC (tracks)
Tracklist:
01. Kontra-Alba
02. Novi Digitalni Sentiment
03. Turobna
04. Sistem Čudovitih Trupel
05. Stara Pesem
06. Mačopolh
07. Svetloba Nove Tiranije
08. Ena Ptička Priletela
Two artistic souls, both with a distinctly emotional approach, but each with their own distinctive interpretation. Vita Mavrič and Jani Kovačič have been intertwining their creative paths for almost a quarter of a century. Together they recreated the songs of Bertolt Brecht and Vitomil Zupan and toured with them on domestic and foreign stages, with the musical show Nepozabna they revived the works of neglected Slovenian poets, Vita included Jani's songs in her projects. And if anyone could capture the essence of Jani's poetic and musical creativity and put it directly under the spotlight, instead of modestly keeping it in the image of seemingly simple singer-songwriter creativity – then it can surely only be Vita Mavrič.
In the Kontra-Alba project, Vita Mavrič is joined by her longtime musical partner, composer and pianist Jaka Pucihar, another key artistic figure in Vita's life, in the reworking of Jani Kovačič's lesser-known songs. In the eight selected poems before us, they outline Jani's vision of the world: we get to know an insightful observer who remains a relentless critic of social delusions in all periods of time.
Vito and Jaka take advantage of the contrast and subversiveness of his songs and further enhance them. The music becomes even more melodious, it easily takes us to the steps of swing, tango, bossa nova and invites us to dance to the dark content that Vita gives through her characteristically emotional and incredibly perfect interpretation. The mocking contrast paints before our eyes the absurdity of our lives in the modern world, trapped in the ease of technological gains and turning a blind eye to the senseless suffering of the innocent. "It's bad when horror becomes bearable," he tells us – and we can't help but agree with that thought.
With its imaginative dramaturgical design, Kontra-Alba takes us through the various shades of modern man. The title song is Jani's reimagining of the medieval chivalric lyrical form of the album with the characteristic motif of saying goodbye to lovers at dawn. Here, Kontra-Alba represents a distinct contrast to its medieval role models: it is set in a romantic evening urban scene, and the only touch of idyllic beauty comes from the music. In the sequel, New Digital Sentiment anchors us even more firmly in the present, while Turobna breaks with the seemingly easygoing idyll and crashes us to the bottom of reality. The system of beautiful corpses in the rhythm of swing once again draws out the absurd contrasts of our time, but our dilemmas are nothing new under the sun, as Stara pesem shows us, which found its example in the Russian poet and singer-songwriter Bulat Okudzhava. Just when it was time to think a little, we are surprised by the brilliantly ironic Mačopolh, and on top of that, pathos wrapped in tango in the form of Light of the new tyranny. The dramaturgical peak is represented by the last poem, One little bird flew in, in which the folk motif appears as a stranger in a meaningless world, but in the end, in Vita's interpretation, it brings hope.
In her interpretation, Vita Mavrič pays close attention to the nuances of densely expressed thoughts and the colorful linguistic sonority of Jani's poems. In doing so, he does not fall into the trap of pathetic glorification of the author, but allows himself to present his songs in his own, witty and at the same time expressive way. Together with Jake Pucihar's multi-layered arrangements, which surround each of the eight stories with a carefully crafted sound-musical atmosphere, he presents Jani Kovačič to us in a completely new light. As a serious poet and musician, you won't look at him the same way after listening to this album. He is a singer-songwriter with a raspy, cynical voice. She, on the other hand, is a singer with clear, emotional vocals. Jani and Vita. Evening and Morning. Contra-Alba.