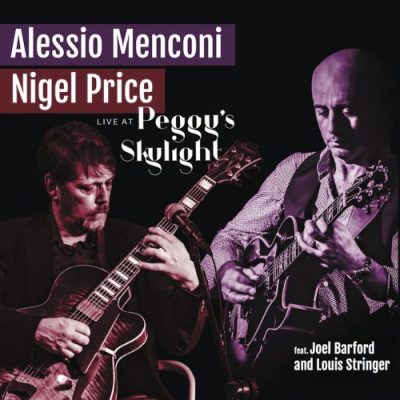 Artist: Alessio Menconi & Nigel Price
Album: Live at Peggy's Skylight
Genre: Jazz
Year Of Release: 2023
Format: FLAC (tracks)
Tracklist:
1. The Days of Wine and Roses (8:46)
2. Night and Day (7:53)
3. Stomping at the Savoy (6:59)
4. Road Song (7:55)
5. Alone Together (9:49)
6. Body and Soul (9:27)
7. A Night in Tunisia (8:16)
Personnel:
Alessio Menconi – Guitar
Nigel Price – Guitar
Joel Barford – Drums
Louis Stringer – Double Bass
Alessio Menconi is one of the most impressive jazz guitarists you will ever hear. In March of 2022 the multi award winning maestro and ex side man for Billy Cobham, Paolo Conte and Jimmy Cobb played a short tour of the UK with fellow guitarist and kindred spirit Nigel Price, ably supported by the incredible young drummer Joel Barford and the up and coming double bassist Louis Stringer.
The band rip through a set of well chosen standards with startling energy and virtuosity. The two guitarists' styles slot together perfectly and they spur each other on to greater heights. It really was a night to remember!
Roaring gigs like this go mostly undocumented but this amazing new venue in Nottingham have a permanent in-house recording setup and this time they captured it all.