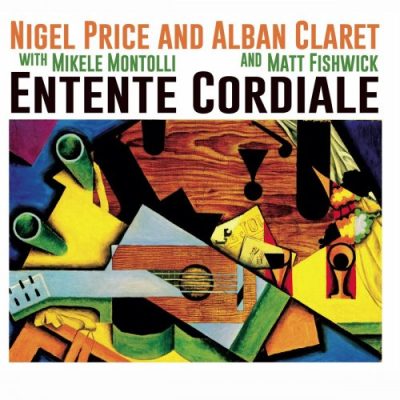 Artist: Nigel Price
Album: Entente Cordiale
Genre: Jazz
Label: Elsden Music
Year Of Release: 2023
Format: FLAC (tracks)
Tracklist:
01. Bittersuite
02. Silver's Serenade
03. The Moontrane
04. Simone
05. Self Portrait In Three Colours
06. Blues For Herb
07. Time Remembered
08. I'm Old Fashioned
09. This Is New
10. Pensativa
Nigel Price needs no introduction as one of the leading guitarists in the UK, and hot on his heels is the young French guitarist, Alban Claret. Putting the two together to form a quartet was an inspired idea.
It may be unusual to find a quartet with a two-guitar front line, but with Entente Cordiale we are presented with just that, in an excellent album that takes us on a journey that features some of the great jazz composers of the 20th century. Some of the compositions are old friends while others may be less familiar, but all are handled with authenticity and originality that ensures that the integrity of the composer is uppermost while the quartet are able to breathe life into the music in way that allows for some fiery and lyrical solos form both guitarists, superbly and sympathetically accompanied by bassist Mikele Montolli and Matt Fishwick on drums.