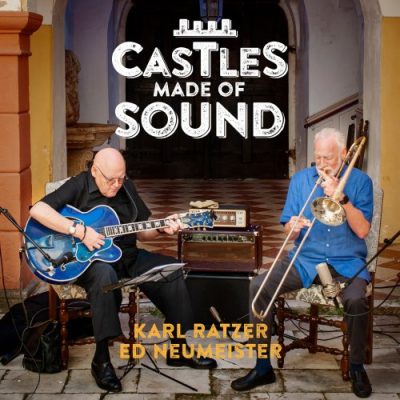 Artist: Karl Ratzer & Ed Neumeister
Album: Castles Made of Sound (#02)
Genre: Jazz
Label: PSI-Music
Year Of Release: 2023
Format: FLAC (tracks)
Tracklist:
1. Gobblers Nob (3:52)
2. Acclimation Park (4:36)
3. Longing (6:22)
4. Cosmos (2:04)
5. Tranquility (1:07)
6. Contemplation (2:15)
7. Rattling (2:58)
8. Mingling (2:59)
9. Until You're Mine (3:48)
10. Voices of Balch (4:47)
11. Snappin (5:37)
Two greats of the international jazz scene interpret their compositions together: The "Wiener Melange" is a type of coffee, but it also represents the cultural melting pot of the Austrian capital. Musically, nobody embodies this mixture more than the living legend Karl Ratzer. With his soul and rock background he has become internationally known as a jazz guitarist alongside greats such as Joe Chambers or Chet Baker. Trombonist Ed Neumeister, who comes from the San Francisco Bay area where he also has his musical roots, has successfully become one of the most sought-after jazz trombonists in New York playing in the Duke Ellington Orchestra or Gerry Mulligan's Concert Jazz Band, among others. His work at the University of Music in Graz is what led him to Austria, where he met Karl Ratzer in various ensembles. With their unique styles, this special duo createan essence of timeless jazz music. With plenty of room for improvisation, this musical collaboration will come across as a melodic conversation between two well-travelled masters who can express a lot with just a few notes. The intimate settingis provided by Carinthia's Castle Tentschach.