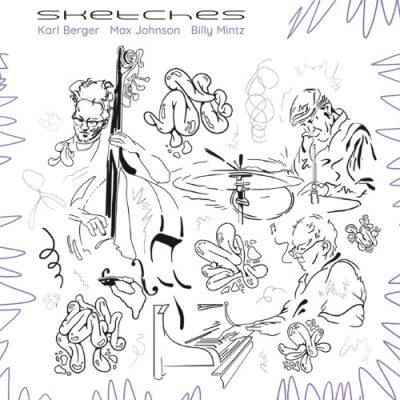 Artist: Karl Berger, Max Johnson & Billy Mintz
Album: Sketches
Label: Fresh Sound Records
Year Of Release: 2022
Format: FLAC (tracks)
Tracklist:
1. Why the Moon Is Blue (05:08)
2. Presently (07:50)
3. Ginger Blues (07:54)
4. Flight (07:10)
5. Debt (04:26)
6. Black Eyed Suzie (07:26)
7. Sketches (05:12)
Personnel:
Max Johnson (double bass),
Karl Berger (piano, vibraphone),
Billy Mintz (drums).
If music really is a form of rapid transportation, then I have found my mode of transport. Suspense brings apprehension before something happens. It's a fact. The next time you're in a snappy nightclub, tap your foot to the memories of your day fading out under the blue lights. The fiercest way to walk anywhere is on your toes.
"Here I am," you blurt out, but everyone already knows you, because a bass is a foghorn that guides us out of exhaustion. The days are doing a little number on us all of late. And still the swell, the tone, the center, makes me shake my hips around the room. When did my sneakers start lighting up? Am I rolling over a rubber cliff in my sonic form of transportation?
The vibes make me think of ice cubes clinking on the side of a glass as I carry it to you. I'd like to take this opportunity to mention the colors of my private dance: Teal on Pyrrole Red. I feel lonesome for nothing but one song fading into the next. When the acid kicked in they were singing, "For He's a Jolly Good Fellow." A circus of sparks could be implied by cymbals and the right notes on a piano. There's that flash of sound that makes the air warm and electric. Wait, did the song change? Yes! And no! A bass run that skitters around, like a cocky rat on the 2nd Ave F platform. If Bartok wrote taffy jazz, we'd all be rollicking to this. Some kids are playing tag outsid —there's the vocals right there. Last night I had a dream that I introduced John Cage to John Coltrane. "John," I said, "This is John." But I don't remember anything they said to each other. Now I'm going to shake my hips out the door and into the night.