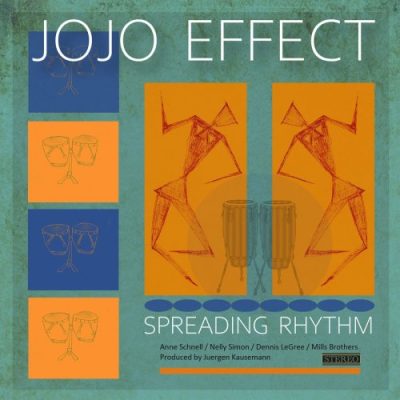 Artist: Jojo Effect
Album: Spreading Rhythm
Label: Chinchin Records
Year Of Release: 2022
Format: FLAC (tracks)
Tracklist:
1. Dizzy's Bob (03:42)
2. Higher (Smooth Return) (03:15)
3. Rockin' Your Soul (03:22)
4. When Your Smilin' (02:23)
5. Da Lua (03:53)
6. Manana (Jojo Effect & Gardener Of Delight remix) (02:48)
7. Tiny Stories (03:10)
8. Romantic Kiss (03:28)
9. Let's Twist Again (Gardener Of Delight) (04:32)
10. Weekend Waltz (01:48)
11. Echo Valley (04:01)
12. Gettin' Some Fun (02:20)
13. Waltz For You (02:14)
German collective Jojo Effect began life in the mid-00s as an electro-swing project, and since then have explored a range of styles from nu-jazz to bossa nova. This, their sixth album, is similarly eclectic in its approach, packing tunes that range from straight-up jazz/jazz-fusion cuts like 'Dizzy's Bob' and 'Tiny Stories', to mellower, loungier numbers like 'Higher (Smooth Return)', 'Manana' and 'Romantic Kiss', while 'Echo Valley', with its housier rhythm and sampled vox, is probably the best bet for the less specialist floors. It all makes for a varied and pleasant listen, even if there's no one stone cold killer.