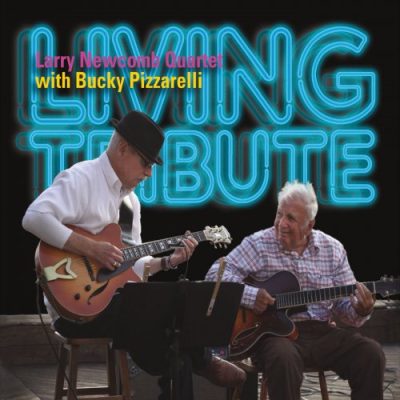 Artist: Larry Newcomb Quartet with Bucky Pizzarelli
Album: Living Tribute
Label: Essential Messenger Records
Year Of Release: 2017
Format: FLAC (tracks)
Tracklist:
01. I Remember You
02. You'd Be so Nice to Come Home To
03. Morningside Heights
04. Alone Together
05. Round Pond Reunion
06. Gold Top
07. Band of Brothers
08. One Heart Ain't as Great as Two (feat. Bucky Pizzarelli & Leigh Jonaitis)
09. Love Is Here
10. Crossing Over
11. Peace
New York-based guitarist Larry Newcomb's latest album, Living Tribute, isn't directed toward a single honoree but several, some of whom are living and some of whom are not. One of them, fellow guitarist Bucky Pizzarelli, even bolsters Newcomb's regular quartet, playing with the sort of bounteous energy that makes it hard to believe he would be celebrating his ninety-first birthday a month after the studio date was held in December 2016.
Newcomb opens with the standard "I Remember You," a warm and appropriately named salute to his earliest influence on guitar, friend and college roommate Dick Hall, who passed away in June 2016. The country-leaning "Gold Top" and gospel-tinged "Crossing Over" (with a bow to J.J. Johnson's "Lament") are also dedicated to Dick Hall, the well- grooved "Round Pound Reunion" to Hall's family and friends. Another guitarist, and another Hall—the late Jim—is eulogized twice, with the standards "You'd Be So Nice to Come Home To" and "Alone Together," while Newcomb's no-nonsense "Morningside Heights" defers to Pizzarelli who plays a mean rhythm guitar on that track and elsewhere.
Newcomb doesn't overlook family ties either. "Band of Brothers" salutes his sons Jonah, Jake and Ian, while "Love Is Here" and "One Heart Ain't as Great as Two" (both sung by Leigh Jonaitis) are dedicated to his wife, Mary. The session closes with a final homage, "Peace," to Newcomb's spiritual guru, Prem Rawat. Having mentioned Newcomb and Pizzarelli (who may or may not be the main soloist on "You'd Be So Nice," "Morningside Heights" and Crossing Over"), it should be noted that the ensemble as a whole is splendid. Pianist Eric Olsen frames a number of polished solos while bassist Dmitri Kolesnik, solid throughout, is featured prominently on "Alone Together." Meanwhile, drummer Jimmy Madison simply goes about his business, leaving no rhythmic issue to chance.
An admirable quartet date that is further enriched by the masterful presence of the great Bucky Pizzarelli, still swinging in his ninetieth decade.