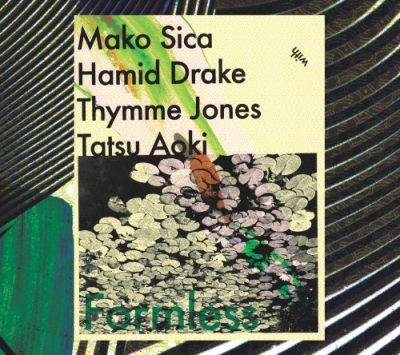 Artist: Mako Sica with Hamid Drake, Thymme Jones, Tatsu Aoki
Album: Formless
Label: Feeding Tube Records
Year Of Release: 2022
Format: FLAC (tracks)
Tracklist:
01. Way Forward (8:09)
02. Passage to Home (10:23)
03. Silver Dragon Moon (3:32)
04. Sensed (10:48)
05. One Seeing Eye (13:15)
06. Messenger (6:16)
Gorgeous quintet improv space explored at Chicago's ProMusica studios. Long-time partners Przemyslaw Drazek (trumpet, strings, percussion) and Brent Fuscaldo (voice, guitar, percussion, harmonica) join up again with Hamid's percussion, Tatsu's bass & shamisen, and Thymme's piano & various, just as they did on last year's amazing Ourania (FTR513).
The sounds now are spacious, comfortable explorations of unknown sonic turf. There may be a bit less of the aggressive edge that marked their earlier work, but the music generates an equal amount of head-shaking wonder. Thymme's piano and the hails of percussive energy now sometimes set the stage in the way the band's trumpet and guitar once did. There's a magnificent moodiness to the way this music is put together. And trying to squeeze it into a genre definition is harder than ever. Rock, jazz and experimental textures are all allowed to roam freely throughout the session, with the result being a splendid sort of audio anarchy head birthing chunks of sound that are sculpted into boulders of cosmic beauty.
There's almost no telling which way things are going to turn in the course of Formless, but the results are always warm blurs you can almost feel massaging your tympanic membranes. Amazing stuff. As usual!
Also worth noting, the band will be dropping Mako Sica as a working name after this LP, and will henceforth be using Drazek/Fuscaldo, along with whatever special riders choose to come along. You have been warned.