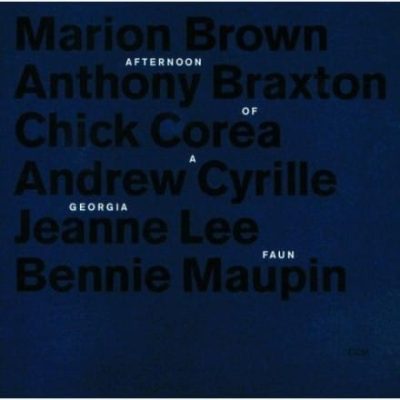 Artist: Marion Brown
Album: Afternoon Of A Georgia Faun
Genre: Free Jazz
Label: ECM Records
Year Of Release: 1970
Format: FLAC (tracks+.cue)
Tracklist:
1. Afternoon Of A Georgia Faun (17:05)
2. Djinji's Corner (18:03)
A subtle congregation of clicks, pops, breaths, and whistles eases us into this challenging yet rewarding recording from a mobile group of musicians, many of whom—Jeanne Lee, Anthony Braxton, Chick Corea, Bennie Maupin, and Marion Brown himself—are now household names in the avant-garde circuit. Over 35 minutes we are treated to a distilled experience that jumps, flies, and slithers its way through a forest of sounds. The arrangements are heavy on reeds and percussion, with star turns from one severely abused piano and a smattering of aphasic human voices who seem bent on reducing all communication to wit and circumstance. The music is indeterminate and uncompromising and unleashes its full torrent only in the second movement, "Djinji's Corner." Slide whistles, snares, and bass join in the cacophony as a voice intones, "Listen to me. Can you hear?"—at last giving us some vocabulary to latch on to as we suffocate under a voracious avalanche.
Not an album for the faint of heart, Afternoon is indicative of the brave decisions ECM was already making on its fourth release, and on it one begins to hear inklings of the space for which ECM would soon come to be known. It is also meticulously recorded. Every detail comes through (for example, when a percussionist picks up bell and rings it, we clearly hear it being returned to a cloth-dampened surface). Describing the sound of this album is, I imagine, as difficult as it was to lay it down in the studio. The sheer range of implied space is impressive, made all the more so for its organic textures. A masterpiece of free jazz and well worth the chance for the adventurous listener.