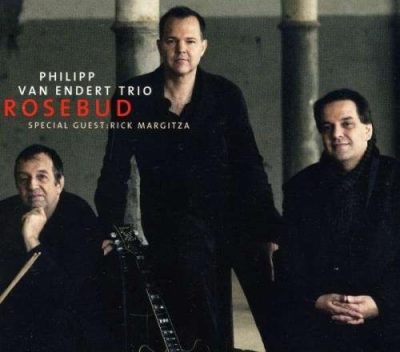 Artist: Philipp van Endert Trio
Album: Rosebud
Label: JazzSick Records
Year Of Release: 2011
Format: FLAC (tracks+.cue)
Tracklist:
01. Reguengo (8:09)
02. Overheated (5:13)
03. God Only Knows (7:38)
04. Fantasy Return Date (5:48)
05. You Must Believe in Spring (4:00)
06. Phily Ray and the Notfinders (5:01)
07. Rosebud (4:30)
08. Landing Grounds (6:04)
09. Can't Help Falling in Love (5:32)
10. Savina (8:09)
Following their critically acclaimed debut album "Trio" with Kenny Wheeler (2004, JazzSick Records) and "Khilebor" (2006 JazzSick Records) the Philipp van Endert Trio now presents its latest CD "Rosebud" on international top level with special guest Rick Margitza (saxophone). Having been played and further developed in the trio´s numerous concerts before recording, the ten compositions matured in a very natural way. The listener is able to sense the deep familiarity amongst these musicians in their mutual interaction and inspiration. The studio sessions of "Trio" and "Khilebor" were recorded bearing guest musicians in mind while the latest release "Rosebud" reveals a deep relationship to Rick Margitza who, after 5 tours with the trio, grew to a significant part of this music. Through his impressing playing in Miles Davis` Band the tenor player became a shooting star in the late 80s/early 90´s. A steady balance between tradition and innovation is skillfully maintained by the trio and leads to a unique "liaison" between the warm and modern tenor saxophone and the soft and full guitar trio sound. Van Endert uncovers and gives new life to the secret force fields of melodic lines with virtuosic instinct and his rhythm section with André Nendza (bass) and Kurt Billker (drums) reacts with a unique musical fantasy to his compositions and playing. The Philipp van Endert Trio impresses with its musical prowess and brings many of its strengths to the fore in this latest beguiling yet weighty Jazz recording.