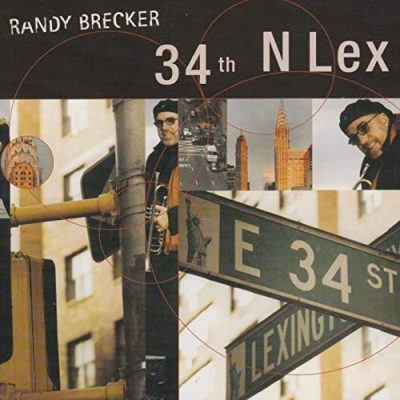 Artist: Randy Brecker
Album: 34th N Lex
Label: ESC Records
Year Of Release: 2003
Format: FLAC (image+.cue)
Tracklist:
01. 34th N Lex
02. Streeange
03. Shanghigh
04. All 4 Love
05. Let It Go
06. Foregone Conclusion
07. Hula Dula
08. The Fisherman
09. Give It Up
10. Tokyo Freddie
11. The Castle Rocks
Randy Brecker is one of the most proficient trumpeters of his generation and brilliantly shows why he has achieved this stature on 34th N Lex. The 11-song paean to his Manhattan, NY, neighborhood is a potent, in-your-face program of hard bop and funky jazz with the likes of his brother, Michael Brecker, on tenor sax; David Sanborn on alto saxophone; Ronnie Cuber on baritone saxophone; and the great trombonist Fred Wesley. The set opens with the free funk and hard bop fusion of horn blasts and honks in different registers, which depict the hustle and bustle of "34th N Lex." The ensemble pulls this off without a hitch and clearly conveys the energy associated with this street corner. On "All 4 Love," Randy Brecker adds a mute to his trumpet and gives a cool tone to the swaggering funk of Gary Haase's programming and urban vocals supplied by J Phoenix. The funk gets funkier on "Let It Go," a party jam with vocal effects and prime horn playing that lends itself to the younger generation but clearly represents the talent of jazz masters in an awesome blowing session. "Foregone Conclusion" is a beautiful ballad that features outstanding cool harmonizing and modal synchronicity that is reminiscent of Miles Davis in his heydey. As a whole, Randy Brecker clearly outdoes himself on this one and it's clearly evident that these musical masters came to play.