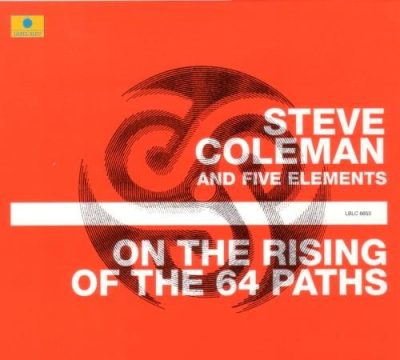 Artist: Steve Coleman and Five Elements
Album: On the Rising of the 64 Paths
Label: Label Bleu
Year Of Release: 2003
Format: FLAC (tracks+.cue)
Tracklist:
01. 64 Path Bindings (Coleman) – 6:58
02. Mist and Counterpoise (Coleman) – 6:42
03. Call for Transformation (Coleman) – 10:43
04. The Movement in Self (Coleman) – 6:16
05. Dizzy Atmosphere (Gillespie) – 6:07
06. Eight Base Probing (Coleman) – 12:47
07. Dizzy Atmosphere (alternate take) (Gillespie) – 7:09
08. Fire Revisited (Coleman) – 13:37
The hermeticism and rigor of some of Steve Coleman's previous work has discouraged certain listeners from investigating his music further. This time, he has chosen to record a set of complex yet accessible numbers. Coleman makes the best use of a three-horn front line, supplemented by drums and two basses — the electric one fulfilling for the most part the role of a guitar. The program is varied and, for instance, one of its highlights is "The Movement in Self," a deeply introspective duet with drummer Sean Rickman whose explosive style and polyrhythms are predominantly featured on the other pieces. The saxophonist wins on all counts, his writing being just as inspired as his playing. "Mist and Counterpoise" ranks among the most beautiful pieces Coleman has ever written and the two breathtaking uptempo readings of Gillespie's "Dizzy Atmosphere" allow for a full appreciation of the leader's arranging skills, as the sextet works its way to the theme through two different paths. The improvisational segments are never formulaic, offering solos or duets over wonderfully nonchalant horn riffs. "Eight Base Probing" presents some intricate and dazzling interplay between alto, trumpet, and flute/vocals. Coleman has rarely sounded so expressive and lyrical, and he has found in flutist Malik Mezzadri, also known as Magic Malik, a perfect foil for his sharp-edged alto. Superior playing and memorable compositions make this session count as one of Steve Coleman's finest achievements.