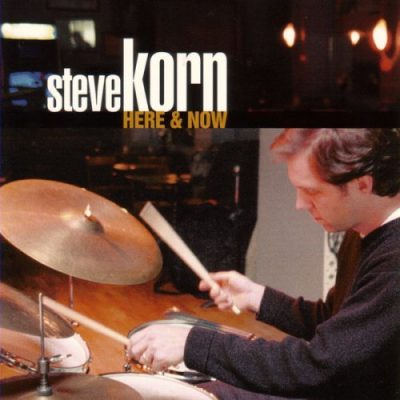 Artist: Steve Korn
Album: Here & Now
Label: Origin Records
Year Of Release: 1999
Format: FLAC (tracks)
Tracklist:
1. Blue (07:46)
2. Looking Ahead (04:48)
3. Pee Wee (06:46)
4. V. (06:58)
5. Side Car (13:05)
6. Pendulum (06:47)
7. Come Back Trixie Friganza (09:43)
8. Jim's Beginning (06:19)
9. Mary Michaelen (04:31)
Personnel:
Rob Davis – tenor saxophone, bass clarinet
Jim Knapp – trumpet
Dave Peterson – guitar
Marc Seales – piano
Jeff Johnson – bass
Steve Korn – drums
There's this idea out there that drummers are not really musical, that their capacities don't necessarily extend beyond hitting things. For those interested in moving past that old prejudice, we submit Steve Korn's wonderfully original first CD, Here & Now.
If recordings were people, this is one you would want to have as a personal friend. Steve Korn's music is both spirited and sensitive, with a sound unique to itself. A sextet recording, featuring tenor sax, trumpet and guitar, plus piano, bass and drums, Here & Now displays a striking synergy between composition and performance. The word is nimble. With six jazz virtuosi at the ready, Korn develops fascinatingly fresh sonic structures, everything from rich ensembles through quirky, surprising textures, with lots of space, of course, for keenly apt solos. Everyone shines, from the musically wise Jim Knapp through the irrepressible Marc Seales, but special mention must be made of guitarist Dave Peterson, the great and greatly under-recognized stealth weapon of Northwest jazz, whose pure, ringing sound is put to so many distinctive uses.
For Steve Korn's band sings instead of screams. It's a pleasure to listen to music which is not merely evidence of great emotional upheaval, but rather an outpouring of gracious lyricism delightfully spun by six mature, inspired talents. A listener almost wishes that the drummer had chosen to show off a little more, but after more than an hour of music which both honors and adds to its tradition, one realizes that he has.