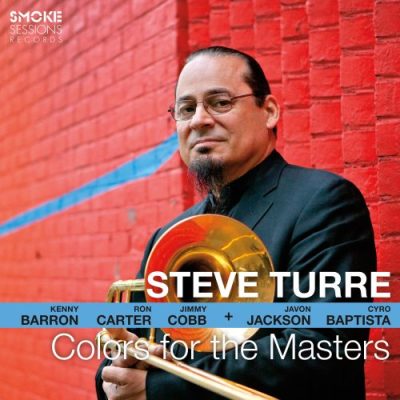 Artist: Steve Turre
Album: Colors for the Masters
Label: Smoke Sessions
Year Of Release: 2016
Format: FLAC (tracks)
Tracklist:
01. Taylor Made
02. Quietude
03. Joco Blue
04. Coffee Pot
05. Reflections
06. Mellow D for R.C.
07. Colors for the Masters
08. When Sunny Gets Blue
09. United
10. Corcovado
When it comes to the contemporary trombone artists, there are two schools of exploration. Steve Turre is an advocate of the more melodic school of which elder champions include Curtis Fuller and J.J. Johnson. The more ebullient and bop-inflected side of things has its greatest proponent in Conrad Herwig. No one method should be considered the right path or wrong path to wander down, however Turre is quite outspoken when it comes to opinions on his contemporaries. He is also one whose own recordings have been inconsistent and possibly a bit too scattered in approach over the years.
Let the foregoing put into context the release at hand. For this writer, Turre's catalog has its share of gems and an equal share of misfires. Quite simply, Colors for the Masters is easily one of Turre's best releases in years. Without taking anything away from the trombonist, the company he keeps has a lot to do with that. A master of singular authority, pianist Kenny Barron has that perfect combination of fire and melodic grace. And if you can't pick out a Ron Carter bass line in a measure or two you are just not listening hard enough. Turre sagaciously lets the master take a nice share of his own solo spots, each one better than the next. Then there is Jimmy Cobb, still downright swinging at the ripe young age of 87.
The first three numbers penned by Turre cover a lot of stylistic ground in a way that recalls a finely-paced club set. "Taylor Made" is one of those slow, tipping tempos that goes down easy, while "Quietude" is a beautiful ballad with a lingering melody. "JoCo Blues" is obviously a blues and to hear these accomplished gentlemen tackle its basic structure speaks to its limitless possibilities. Other originals include "Mellow D for R.C.," one of four pieces to also present Javon Jackson on tenor saxophone. The title tune features a modal vamp set up by Barron that finds Turre speaking in angular lines across the range of his instrument.
Rounding out the ten tracks are Monk's "Reflections," J.J. Johnson's "Coffee Pot," Wayne Shorter's "United," and the standard "When Sunny Gets Blue." Of course, no Turre album would be complete without his creative use of conch shells. The closing "Corcovado" provides fodder for that talent with further textures added by percussionist Cyro Baptista. It's a spirited sendoff to an album that finds Turre and his colleagues at the top of their games.