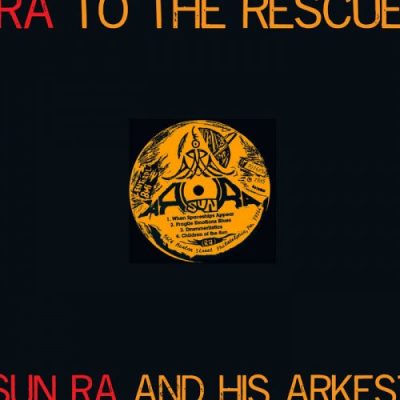 Artist: Sun Ra And His Arkestra
Album: Ra to the Rescue
Label: Enterplanetary Koncepts
Year Of Release: 2015
Format: FLAC (tracks)
Tracklist:
01 – Mystery, Mr. Ra (Previously Unreleased) (3:07)
02 – When Spaceships Appear (Ra to the Rescue, Ch. 1) (5:21)
03 – Back Alley Blues (a.k.a. Fragile Emotion Blues) (3:48)
04 – Drummerlistics (2:48)
05 – Children of the Sun (4:28)
06 – Cosmo-Party Blues (4:38)
07 – Space Shuttle (Ra to the Rescue, Ch. 2) (4:17)
08 – Fate in a Pleasant Mood (8:43)
09 – They Plan to Leave (6:08)
10 – When Lights are Dark (a.k.a. Back Alley Blues) (4:36)
Ra to the Rescue is a live set recorded at the Squat Theater in New York in 1982. It's quite well recorded, although some of the tracks are faded or edited somewhat abruptly. "Ra to the Rescue (Chapter 1)" is an insane solo synthesizer workout that has Ra in full sci-fi mode. He does things with a synthesizer that you never would have thought possible. For Chapter 2, it's Marshall Allen's turn, doing things you never thought possible with an alto saxophone. Then the album shifts gears into a very nice arrangement of "Fate in a Pleasant Mood" that leaves out the lyrics, but has nice "la-la-la" vocals and hand claps. The second side of the album heads in a blues direction. "When Lights Are Dark" is a very swinging basic blues, with just bass and drum accompaniment. "They Plan to Leave" starts with a bluesy piano intro, then June Tyson and John Gilmore singing. Ra switches to synth, then takes the vocal lead while Tyson and Gilmore continue in the background. "They Plan to put the White House on the moon, soon! and the Kremlin on a satellite!" This is another great Arkestra vocal track. "Back Alley Blues" closes the set with a fantastic gospel-blues stomper. Ra to the Rescue may be tough to find, but it's well-worth seeking out for fans.