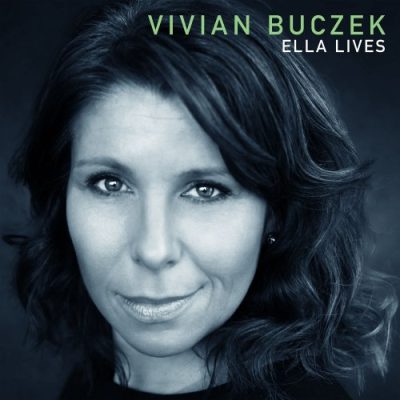 Artist: Vivian Buczek
Album: Ella Lives
Label: Naxos Sweden – Prophone Records
Year Of Release: 2017
Format: FLAC (tracks)
Tracklist:
01. You'd Be so Nice to Come Home To
02. Yesterdays
03. Prelude to a Kiss
04. The Man I Love
05. It's Alright with Me
06. The Very Thought of You
07. Caravan
08. Lady Be Good
09. Tenderly
10. Misty
11. Things Ain´t What They Used to Be
Sweden's Vivian Buczek, fast approaching her 40th birthday, comes across more as a schoolgirl with a crush on her teacher on this, her seventh solo album, which pays tribute to The First Lady Of Song. Ella Fitzgerald—had she not died in 1996—would be 100 this year.
"Ella Fitzgerald has always been my greatest inspiration and the main reason that I have become a jazz singer," Buczek explains in the sleeve note. Her father Bruno, who played trombone, introduced her to Fitzgerald: "I had never heard such honest and joyful singing before. The way she used her voice in so many different ways was astonishing to me."
Along with obligatory dollops of Ella-style scat, Buczek delivers 10 numbers from the Great American Songbook closely associated with her idol. Then, in case anyone should doubt her devotion, she closes with Mercer Ellington's "Things Ain't What They Used To Be," abandoning Ted Persons' lyric at one point to moan ecstatically, "Oh, Lady Ella… sweet Ella."
Mind, nearly everyone involved seems to be affected by the awesome subject matter. Pianist Martin Sjöstedt's arrangements—particularly on Jerome Kern's "Yesterdays"—try just that little bit too hard, hemming in soloists like Peter Asplund (trumpet) and Karl-Martin Almqvist (saxophone), rather than giving them space to breathe new life into these—let's face it—sometimes rather tired, old songs.
Despite being used as a pretext for a ghastly 1992 Meg Ryan movie of the same name, Duke Ellington's "Prelude To A Kiss" from 1938 should surely now be definitively laid to rest as a vocal number. The schlocky, cocktail bar lyrics were only tacked onto Ellington's lovely tune by Irving Mills, his money-grubbing manager, in a bid to garner more royalties. Though Duke wouldn't have complained. The cash helped to keep his band on the road.
Cole Porter's "You'd Be So Nice to Come Home To," written in 1943, holds up reasonably well in the present day, though best sung in a room with an open fireplace. It gets a stellar, straight-ahead outing here and is blessed with a fine bass solo by Niklas Fernqvist.
Asplund and Almqvist vie for solo honours on "Lady Be Good" and there's a rollicking, if somewhat incongruous vocal from Buczek. Incongruous? Perhaps not. When it comes to declarations of love, gender seems of increasingly little consequence these days. If Cole Porter were still around, he'd no doubt write a song about it.
Buczek seems to be following Fitzgerald's example in staying, specifically a jazz singer. She displays a good feel for her material and is generally careful not to let style triumph over substance. She is, understandably, big in Sweden. Elsewhere? The jury is still out on that one.