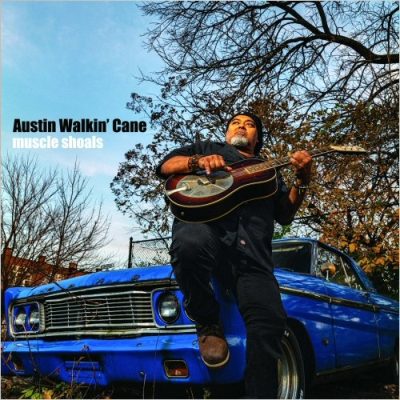 Artist: Austin Walkin' Cane
Album: Muscle Shoals
Genre: Acoustic Blues
Label: Hoboville Records
Year Of Release: 2023
Format: FLAC (tracks)
Tracklist:
1. Waiting For A Little Sunshine (3:51)
2. Living, Working, Dying (4:34)
3. Midnight Creep (2:39)
4. Same Bad Habits (3:08)
5. One Heart Walkin' (5:16)
6. Dark Was The Night, Cold Was The Ground (3:00)
7. (In The Evening) When The Sun Goes Down (3:37)
8. Highway 61 (4:42)
9. Sweet Mama Brown (4:27)
10. Sun Go Down (4:41)
Austin Walkin' Cane has traveled the world singing the blues with only a guitar & suitcase in hand. The singer/slide guitarist says "B.B. King Live at the Regal was the album that led me to the blues at fourteen years old. B.B.'s voice & guitar blew my mind! Then I started digging deeper & found Howlin' Wolf, Muddy Waters, John Lee Hooker and Robert Jr Lockwood. A few months later, Robert Johnson King of the Delta Blues Singers Vol. I & II fueled my obsession with slide guitar."Austin and Chris Allen, another Cleveland based singer-songwriter, began writing songs together as teenagers. That songwriting partnership has reaped many musical dividends, and the two team up once again for Cane's eighth blues album, Austin Walkin' Cane Muscle Shoals. The album was inspired by the legendary FAME Recording Studios in Muscle Shoals, Alabama. Legends such as Aretha Franklin, Wilson Pickett & Otis Redding recorded hits in Studio A. The Allman Brothers had their first jam in Studio B. Cane says, "I was leaving to perform at a Memphis house party when a friend mentioned that Muscle Shoals was only three hours away. I immediately booked a session at FAME." Fifteen songs of Austin with his National Resonator Guitar were recorded that afternoon. The slide guitar heavy album was rounded out with the talents of legendary producer Don Dixon at SPA STUDIO.