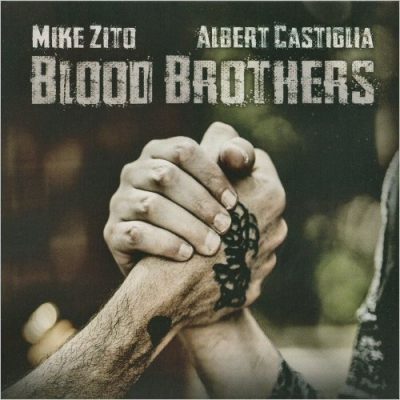 Artist: Mike Zito & Albert Castiglia
Album: Blood Brothers
Genre: Electric Blues, Blues Rock
Label: Gutf Coast Records
Year Of Release: 2023
Format: FLAC (tracks+.cue)
Tracklist:
1. Hey Sweet Mama (3:37)
2. In My Soul (4:47)
3. Tooth And Nail (4:39)
4. Fool Never Learns (3:27)
5. A Thousand Heartaches (5:00)
6. My Business (2:52)
7. You're Gonna Burn (4:32)
8. Bag Me, Tag Me, Take Me Away (2:59)
9. No Good Woman (4:52)
10. Hill Country Jam (6:55)
11. One Step Ahead Of The Blues (3:52)
Mike Zito and Albert Castiglia's dozens of individual albums all point to their first collaboration working as well as it does. Not to mention that they're apparently good buddies. The title Blood Brothers encapsulates their bond and shared spirits ideally. Zito and Castiglia have long shown that they possess individual panache as writers, singers, and guitarists. But here, their red, white, and rocking blues sure flow together as if meant to. The eleven songs—split almost evenly among originals and covers—are granite tough, but quite tuneful. And who better to produce Blood Brothers than Joe Bonamassa and Josh Smith, gifted guitarists in the realm themselves, and experts at making this kind of music shine for contemporary audiences.
Recorded at the legendary Dockside Studio in the Louisiana swamp, the sessions feature Douglas Byrkit on bass, Matthew Johnson and Ephraim Lowell on drums and percussion, and Lewis Stephens on piano and organ. They're augmented by a variety of guests including Bonamassa, Smith, and a cadre of horn players. The plush sound never feels crowded, and it's always as loose, fresh, and alive as the studio's surroundings and rich history.
Zito's "Hey Sweet Mama" leads off, the rock and roll beat and rolling piano of it drawing the listener in like a wolf to a sheep. It's a fun song, and a heck of a way to open the album. "In My Soul" surprises, calling to this mind vintage Doobie Brothers. Zito's strong, soulful singing then leads the band through an opulent slice of soulful rock music. "Tooth and Nail, written by the great by Tinsley Ellis," captures Tinsley's own essence perfectly, Castiglia's angry voice, and the guitars—especially Zito's slide—also evoking the way Ellis channels one of his main influences, The Allman Brothers Band. Another that captures the essence of its creator remarkably is "My Business," penned by John Hiatt. Zito and Castiglia practically out-Hiatt Hiatt's version, as impossible as that may seem. Zito sings it like a man possessed.
Zito bleeds Memphis soul from Fred James' "A Fool Never Learns," and in Castiglia's "A Thousand Heartaches," Bonamassa takes over on lead guitar, opening up Castiglia to just sing his heart out. The album never lets up until it closes with "One Step Ahead of the Blues," by the late, underappreciated Tulsa, Okie songwriter Roger Tillson. Think Leon Russell as Zito and Castiglia duet in voice and on lead guitar.
Here's to hoping they do this again, because Blood Brothers offers the best of Mike Zito and Albert Castiglia in one very attractive, highly explosive package.
Tom Clarke