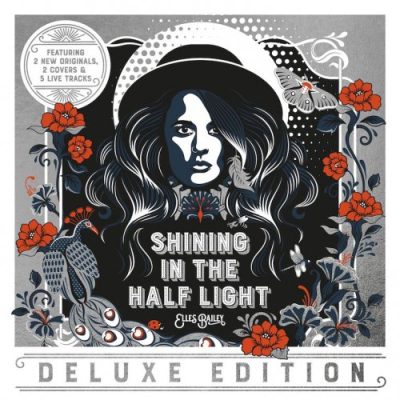 Artist: Elles Bailey
Album: Shining in the Half Light (Deluxe Edition)
Genre: Blues Rock
Label: OutLaw Music
Year Of Release: 2023
Format: FLAC (tracks)
Tracklist:
1. Cheats and Liars (3:49)
2. The Game (3:04)
3. Stones (3:25)
4. Colours Start To Run (3:28)
5. Different Kind of Love (4:00)
6. Who's That (3:41)
7. Sunshine City (4:17)
8. Halfway House (4:49)
9. Riding Out the Storm (4:39)
10. Shining in the Half Light (3:38)
11. Spinning Stopped (2:32)
12. Hole in my Pocket (4:18)
13. Over the Hill (3:26)
14. Long as I See the Light (4:20)
15. Halfway House (4:52)
16. Riding out the Storm (4:23)
17. Stones (3:23)
18. The Game (3:01)
19. Sunshine City (4:29)
Bristol-based singer, songwriter and bandleader, who has powered her way to the-forefront of the British blues and roots scene in recent years, unveils her eagerly-awaited third album 'Shining in the Half Light'. Crammed with vibrant originals brought to life with her A-list touring band, it's yet another significant step forward in a career already feted with awards and acclaim.
'Shining in the Half Light' is Bailey's first full length album recorded in the UK & feature's Joe Wilkins on Guitar, Jonny Henderson on Ivories, Matthew Waer on Bass duties and Matthew Jones on drums. It was recorded in deepest Devon in December 2020 at Middle Farm Studios and produced by Dan Weller, best known for his long working relationship with Enter Shikari. Elles wanted this record to feature 'gospel style vocals' so in steps Izo Fitzroy, an incredible artist in her own right, who arranged the stunning background vocals on 'Shining In The Half Light', and performed them alongside Jade Elliot and Andrusilla Mosley.
An exciting team of co-writers feature with three credits for Ashton Tucker & Will Edmunds, who both wrote with Elles for 'Road I Call Home', plus she teamed up with longtime guitarist Joe Wilkins to write the slow-flowing, philosophical 'Riding Out The Storm'. Other kindred spirits include guitar maestro Martin Harley, for the gentle and romantic 'Different Kind Of Love' and Matt Owens, co-founder of the hugely successful indie-folk outfit Noah and the Whale, on the aforementioned 'Sunshine City'. The album comes to a striking conclusion with its title track, co-written with Nashville's Craig Lackey, written over Zoom in May 2020.