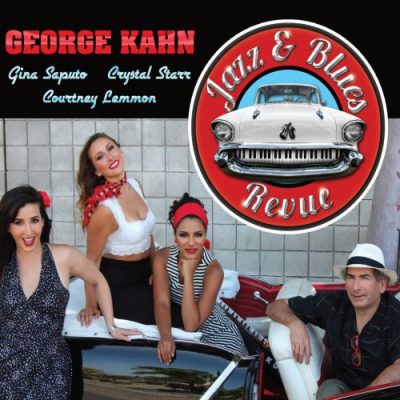 Artist: George Kahn
Album: Jazz & Blues Revue
Label: Playing Records
Year Of Release: 2014
Format: FLAC (tracks)
Tracklist:
01. Cantaloupe Island
02. Yes We Can Can
03. Summertime
04. Beat Me Daddy Eight to the Bar
05. Shoo Shoo Baby
06. Use Me
07. The Boy from New York City / The Way You Make Me Feel
08. God Bless the Child
09. I'd Rather Go Blind
10. Something's Got a Hold On Me
11. Rock Me Baby
12. Feeling Good
13. Afro Blue
Billed as the "Sass 'n' Soul World Tour," LA jazz pianist George Kahn presents the Jazz & Blues Revue, his eighth album as leader featuring three of LA's finest female jazz vocalist in his first all-vocal project and departure from previous recordings. On tap, fresh new arrangements of thirteen songs that obviously, not only touch on the jazz and blues landscape but, also include elements from the R&B and soul genres. On vocals throughout the session are Gina Saputo, a Eugene, Oregon native, educator and staple of the LA jazz scene, Crystal Starr winner of the 2011 Hollywood Music Awards for Best R&B singer and Santa Monica's own Courtney Lemmon who released her debut jazz album at the age of fifteen and has appeared on other Kahn recordings.
The pianist provides able support for the singers by assembling a cast of players that include jazz luminaries among them, saxophonist Eric Marienthal and trumpeter Dr. Bobby Rodriguez as well as special guests guitarist Pat Kelly and tenor saxophonist Chuck Manning. Herbie Hancock's "Cantaloupe Island" starts the vocal ball rolling featuring Saputo on lead as the other singers provide the background with solos from Marienthal on the alto and the Dr. on the horn jazzing up the piece. Kahn and the band introduces what seems, at least in the beginning, like a New Orleans styled soulful version of the Gershwin standard "Summertime," but then develops nicely into a percussive Latin jazz tune with vocalist Starr doing the honors while M.B. Gordy lays down the percussion.
The three vocalist become the newest version of the fabulous Andrews Sisters of the 30s and 40s with a boogie-woogie-styled romp on "Beat Me Daddy Eight to the Bar" and lay down one mean version of the popular Bill Withers song "Use Me" complete with funky rhythms and superlative piano lines from the leader. Songbird Saputo leads a sassy rendition of the time-honored Billie Holiday classic "God Bless the Child" as Marienthal's expressive alto and the other ladies, do a little blessing of their own on this tune. The Gospel and soul sound is alive and well on the Etta James piece "Something's Got A Hold On Me" with songstress Starr taking the lead and propelling her crisp sharp vocals on a swinging tune punctuated by Kelly's rock-styled guitar riffs.
This vocal experience winds down with Lemmon voicing a stellar arrangement of Anthony Newley's "Feeling Good" while a terrific read of the Mongo Santamaria standard and finale tune "Afro Blue," provides some of the best instrumentals of the recording. Kahn states that "each of my albums features a wide range of styles…" and this new album continues in that tradition with LA songbirds Saputo, Starr and Lemmon voicing their interpretations of the jazz, blues, soul and R&B sounds contained in George Kahn's Jazz & Blues Revue, a vocal jazz statement that begs to be heard. With great vocals, superb instrumentals and an exciting selection of music, this is vocal jazz at its best.