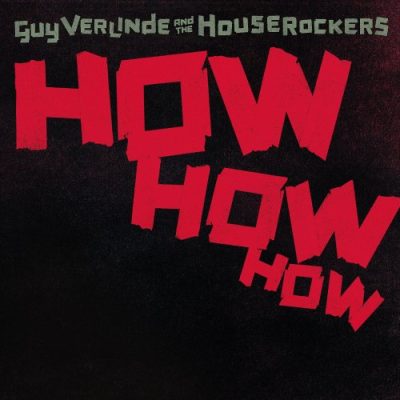 Artist: Guy Verlinde And The Houserockers
Album: How How How
Label: Blue Sting
Year Of Release: 2017
Format: FLAC (tracks)
Tracklist:
01. How How How
02. Long Distance Lovin'
03. Let's Get It On
04. Show Some Mercy
05. Snap!
06. I've Been Waitin'
07. You Gotta Shake
08. Jungle Fever
09. That Baby Don't Love Ya
10. Down the Line
11. Say What?
Personnel:
Guy Verlinde (slide guitar, vocals),
Richard van Bergen (guitar, backing vocals),
King Berik (drums, backing vocals),
special guest:
Raf Verlinde (vocals on 1).
After years of hard work Guy Verlinde has become the Belgian blues pride. And though it may sound like a dusty cliché, he's by far "the hardest working performer" within the Belgian blues scene. In eight years he released 9 albums and signed a record deal with the prestigious labels Parsifal (B) & Dixefrog Records (FR). In 2011 he won the Belgian Blues Award. He represented Belgium at the European Blues Challenge '12 in Berlin (D), and in 2014 he was voted "Best Live Act". The last few years the European Blues scene has also discovered Guy Verlinde after his tours in Holland, Germany, France, Austria, Spain, Switzerland, Slowakia, Luxembourg, …
Guy Verlinde not only tours non-stop with his band "The Mighty Gators". He also performs as a "One Man Band" with his resonator & Weissenborn guitars & an old suitcase as drumkit. In 2011 he founded the only Hound Dog Taylor tribute band in Europe, to keep the legacy of Hound Dog Taylor alive. As he once got infected by the blues at a young age, Guy Verlinde also wants to introduce the blues to youngsters. Therefore he has a "Blues in Schools" project. And he organizes two times a month a blues jam session in his home town Ghent for young blues musicians. As his slide guitar & harp style are very emotional, unique & authentic, a Guy Verlinde show is always very energetic. As he says:" In a world of plastic & virtuality, people want real things". A Guy Verlinde show is all about energy and total surrender to the audience. This makes him a real crowd pleaser.
As a young blues musician he already played the support act for great blues artists like B.B. King (US), John Fogerty (US), Keb' Mo' (US), Kenny Wayne Sheppard (US), Jimmy Vaughan (US), Jim Shuler (US), Lucky Peterson (US), Otis Taylor (US), Ian Siegal (UK), Shemekia Copeland (US), … In 2010 he recorded with Texan Blues artist Guy Forsyth (US) the album Banana Peel Sessions and in 2011 he toured Europe with his Chicago slide guitar hero Studebaker John.
Guy Verlinde was born on the 22nd of March 1976 in a small village near Bruges. As a child he was always obsessed with music: making his own toy guitars, being a bedroom dj, singing in the church choir, being a local playback star, playing in the local harmony … But it all started to fall into place when he bought his first guitar and harp at the age of 16. After moving to Bruges, he discovered the blues through the massive record collection of a friend's father. Soon after he founded his first band Smokin' Chillums at the age of 17. They played on the Belgian & Dutch blues scene intensively for 6 years.
Every talent needs a master, a guide and a bullshit detector. After moving to the city of Ghent, he met slide guitar player Marino Noppe of the legendary bluesband Maxwell Street. He spent countless hours in his house, listening to old vinyl & blues stories ad playing his old vintage guitars. With Marino he learned everything about being a blues musician. As the backing guitar player of Maxwell Street he toured through the States and Europe playing with Hash Brown, Johnny Moeller and Louisiana Blues legend Roscoe Chenier.
Together with Marino Noppe he started the band Mo' Rice, in which Guy Verlinde for the first time really focussed on the blues harp. During that time he developed himself as an energetic harp player influenced by Sonny Boy Williamson II, Junior Wells, James Cotton and Lester Butler, who had a big impact on his playing.
Since he started playing the guitar, Guy Verlinde, who was first influenced by Chris Whitley and later blown away by Hound Dog Taylor, has felt attracted to the slide guitar. It became clear that this was his path to walk. Even though he incorporated the soul of the traditional slide guitar players as Fred McDowell, Bukka White, Elmore James … , he also got inspired by contemporary artists like John Mooney, Anders Osborne, Sonny Landreth, Ben Harper and John Butler.