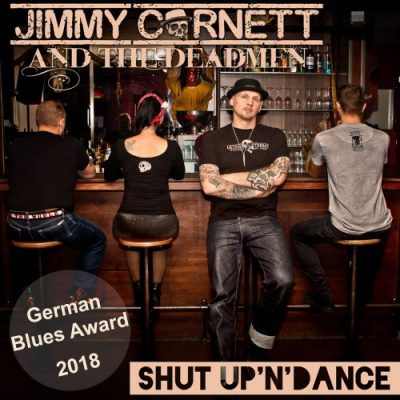 Artist: Jimmy Cornett And The Deadmen
Album: Shut Up'N'Dance
Label: Stringkiller Records
Year Of Release: 2017
Format: FLAC (tracks)
Tracklist:
01. Jericho
02. White Trash Boogie
03. If It Hadn't Been for Love
04. In My Time of Dying
05. Boogie Chillun
06. Highway Is My Home
07. Born into a Burning Hell
08. I'm on Fire
09. Shut up 'N' Dance
10. Road to Heaven
11. Dr. Jekyll and Mr. Hyde
Don't jump to the wrong conclusions: Jimmy Cornett & The Deadmen definitely don't play rockabilly music! Frank Jäger's highly visible double bass, which he likes to take a bath in the crowd with, playing it on his back, may imply as much, but this band from Hamburg doesn't go in for clichés. Their career is as colourful as their songs, their lyrics as diverse as life itself. So perhaps we should first of all address the question of what kind of music they actually play. The answer is: blues and southern rock, featuring sounds that originate from different places all over the world. The heat of California, the dry deserts of Nevada, smoky clubs in Amsterdam, London, Berlin – this band draws its inspirations wherever it goes. They've developed their international style on tours throughout Germany, but also during Cornett's visits to the US, for example when they played the legendary Viper Room in Los Angeles, at a show in Uruguay's capital Montevideo and at major biker meetings and Harley Davidson events in Germany and all over Europe. You have to experience Cornett and his band live, their sizzling mix of classy guitar riffs, distinctive grooves and haunting blues-laden melodies which have wowed audiences during their three tours to date. And there will be plenty of opportunities to catch up with the band from May 2015 (for tour dates see below).
The Deadmen are headed by Jimmy Cornett, vocalist, guitarist and creative songwriter. Raised in the 1980s in the nowhere land of Germany's Weser Uplands region, Jimmy was soon influenced by legends such as Richie Havens, John Lee Hooker, Dion, Chuck Berry, Elvis and Johnny Cash. He gained his first practical experience as a musician in small clubs and cellar bars, and of course in the streets, which he still feels strongly attached to because that's where life pulsates. His musical career began to gain momentum in the early 1990s when he moved to Hamburg. Playing in a number of different bands, but mainly as a solo musician, he soon made a name for himself far beyond the city limits. 2007 saw the arrival of his solo debut Rhythm Of Hells – Songs Of Angels History, on which Cornett set to music the history of the Hells Angels, using songs by music legends such as Janis Joplin, the Rolling Stones, Jerry Garcia, Johnny Cash and Hank Williams. In 2010, he made a video in the Pyrenees to support the title track of the Deadmen's upcoming debut album Raise The Dust, and his solo EP California Session, which also featured actress Julia Roberts' nephew, saw the light of day in the following year, proving to be a prime example of the international direction that Cornett's music was taking.
Soon afterwards, Cornett presented the line-up of his new band The Deadmen, consisting of lead guitarist Dennis Adamus, drummer Claudia Lippmann and the above-mentioned Frank Jäger on double bass.