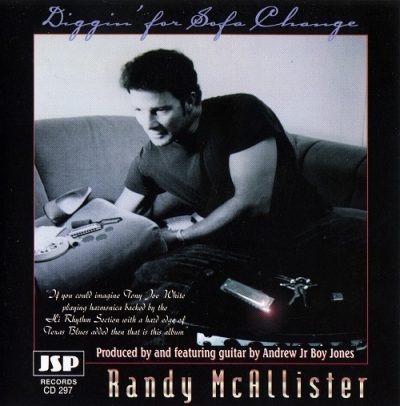 Artist: Randy McAllister
Album: Diggin' For Sofa Change
Label: JSP Records
Year Of Release: 1997
Format: FLAC (image+.cue)
Tracklist:
01. State Of Confusion
02. Battle Cry
03. Sofa Change
04. You Got No Right
05. Scary Women
06. I Don't Like It
07. Down In The Gutter
08. Bob's Number Two
09. Babe And Nan's Thing
10. Actions Speak Louder Than Words
11. Woman On A Mission
12. I Got It
He's been flying in the face of convention his whole career. No smoke, no mirrors, no choreography, no industry machines. One of the most versatile bluesmen in Texas, Randy plays driving drums and world-class harmonica, writes incredible songs and sings like no one else.
Raised in the small Texas town of Novice, McAllister is a 5th generation Texan, whose father was both a fireman and musician. His father was a drummer in a band called, "The Flames." At a very young age, Randy followed in his father's footsteps. He began to take up drumming, but the drums were just the beginning for Randy. McAllister found the harmonica in his early 20's while stationed in Massachusetts as a member of the U.S. Air Force. Taking cues from Blues Legend "Earring George" Mayweather, a Boston resident and harmonica master, McAllister moved back to Texas in 1992, a strong, skillful harp player who was establishing his vocal and songwriting skills. In 1997 Randy signed with JSP Records. He released 3 highly acclaimed CD's with the label. Throughout the proceeding years Randy has gone on to record with Severn Records and Reaction Records. To date he has 13 releases to his credit.
Roustabout, maverick, spiritual, gritty, amazing, genius, wild, bad-ass, soulful… These are some of the words used to describe this Texas bonafide blue blood. A much revered, singer, songwriter, harmonica player and drummer. East Texas roadhouse soul by one of America's true blues/roots originals.