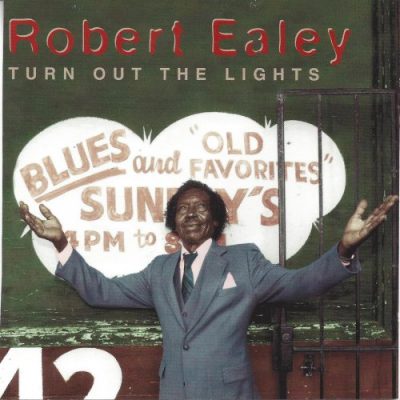 Artist: Robert Ealey
Album: Turn out the Lights
Label: Black Top
Year Of Release: 2015
Format: FLAC (tracks)
Tracklist:
01. Turn Out the Lights
02. One Love One Kiss
03. She's a Rocket
04. I Had a Dream
05. Tica
06. Havin' a Party
07. All My Worries
08. If You Need Me
09. The River
10. Please, Mr. Johnson
11. Goin' to New York
Robert Ealey was born in Texarkana, Texas. Dallas-based vocalist and songwriter Robert Ealey began singing in his local church at age 15 with a quartet group in his native Texarkana. Influenced by the likes of Lightnin' Hopkins, Lil' Son Jackson, Frankie Lee Sims and Aaron 'T-Bone' Walker, he began singing blues professionally at 20 after he moved to Dallas. In nearby Fort Worth, he joined the Boogie Chillen Boys and became a featured vocalist at the Blue Bird Club there. After singing there for 20 years, Ealey bought the Blue Bird Club and ran it for another ten years. In 1990, Ealey hooked up with guitarist Tone Sommer and began touring outside of Texas. The band quickly found an audience for their authentic Texas urban blues in Europe, where they have toured more than a dozen times since 1990. Sommer and Ealey also did TV commercial work that made use of their music. Every September, Ealey performs in his own blues festival, held in Sundance Square, Fort Worth. After Black Top Records purchased several master tapes from the Top Cat label in Dallas, they released Ealey's 'Turn Out the Lights'; originally titled 'If You Need Me'. On the album, he is accompanied by a bevy of the Dallas/Fort Worth area's best blues accompanists, including Mike Morgan and Sommer on guitars, Ty Grimes on drums and Mark Rybiski on saxophones.
Robert Ealey is a Fort Worth legend! Texas blues fans should own this album. The title track is one if his most famous. The guitar and beat on 'One Love, One Kiss' is electrifying. The musicians contributing to this album have done a superb job of capturing that fat Texas sound.Excellent is all on this album. The guitar will drive you crazy. Great artists, great sax & vocals, good writing skills every song is strong. The kind of tunes that just keep playing in your head till you hear it again.