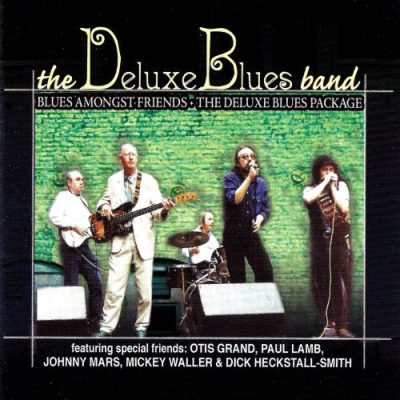 Artist: The Deluxe Blues Band
Album: Blues Amongst Friends
Label: Blues Leaf Records
Year Of Release: 2003
Format: FLAC (tracks)
Tracklist:
CD 1:
01. Lambpoon (feat. Paul Lamb)
02. All Your Love (feat. Otis Grand)
03. Rambler's Blues (feat. Paul Lamb)
04. Elevator's Blues (feat. Otis Grand)
05. Dead Cat on the Line (feat. Dick Heckstall-Smith)
06. Peach Tree (feat. Paul Lamb)
07. Angel of Mercy
08. Neighbor Neighbour (feat. Dick Heckstall-Smith)
09. 300 Hundred Pounds of Joy (feat. Dick Heckstall-Smith)
10. Hoochie Coochie Man (feat. Johnny Mars)
CD 2:
01. Really Love My Baby
02. Cool Operator
03. A Fool of Me
04. I Know (feat. Dick Heckstall-Smith)
05. The Lonely Side
06. Riding Two Trains (feat. Dick Heckstall-Smith)
07. Drop Dead
08. Gone Too Long
09. Heatwave
10. Just a Little Bit (feat. Dick Heckstall-Smith)
The De Luxe blues band originally started life in 1980 as a pick-up band for American blues performers Eddie Clearwater and Carey Bell for just one show. Fellow American guitarist and singer Danny Adler had invited pianist Bob Hall, drummer Mickey Waller and me to do the gig in London's steamy Dingwall club. We thoroughly enjoyed working together, and decided that night to form a permanent band. Veteran sax player Dick Heckstall Smith would soon join us. A good time was had by all for the next 13 years but after five albums and countless European Tours, Danny Adler decided to return to the States, and the De Luxe band members amicably went their separate ways.
I took a break for a while, but in 1994 lure of the De Luxes is was too hard to resist, and I invited seasoned London musicians Phil Taylor, Alan Vincent and Dave Beaumont to join me in the De Luxe Blues Band, Mark II. We had fun and made one more album. However in 1997, we called it a day, having thoroughly enjoyed our musical alliance.
Shortly afterwards, I bumped into five musicians would eventually join me in the current De Luxe Blues Dand line-up. Bill and Daniel Smith (harp and guitar), Reg Patten (drums), Russell Baillie (vocals) and Dennis McGrath (guitar) proved to be more than worthy successors to previous De Luxe band members, and immediately hit the road… and the studio.