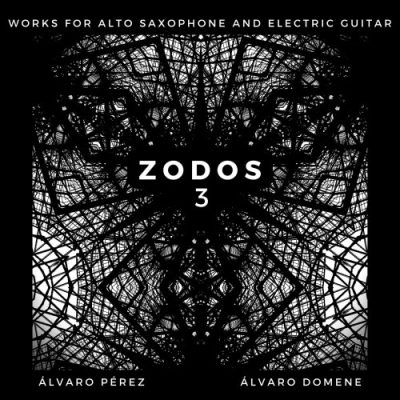 Artist: Álvaro Pérez, Álvaro Domene
Album: Zodos 3: Works for Alto Saxophone and Electric Guitar
Label: Iluso Records
Year Of Release: 2023
Format: FLAC (tracks)
Tracklist:
1. Chaos to Symmetry
2. The Underbeat
3. Oscillating Lines
4. Fractal Structure III
5. Vapour Sound Particles
6. Music is Outside Time
7. Times Serves Only for it to Manifest itself
8. The Notion of Time (is Outside Time)
Iluso Records is delighted to be presenting the first duo recording by Madrid based alto saxophonist-composer Álvaro Pérez and New York based guitarist-composer Álvaro Domene.
On "Zodos", their first recording together since Zöbik-3's 2013 debut, longtime collaborators Pérez and Domene present an original collaborative repertoire of exploratory creative music for alto saxophone and seven string electric guitar which delves into and beyond the wide spectrum of functions and textures that these two instruments can adopt individually and with each other.
Their chamber-like, and mostly algorithmic, compositional structures are perfect vehicles that assist in catalysing their telepathic interplay during improvisatory passages, which are filled with highly detailed contrapuntal statements, rhythmic propulsion, and a crystalline elegance that this well recorded session makes salient. There is a certain level of eeriness and menacing tension that permeates throughout the entire recording, giving it a solid sense of cohesiveness, direction, and personality.
The duo brings virtuosity to the sensitive requirements of this remarkably labyrinthine music, which calls for deep instrumental dexterity and an acute awareness for leveling out all of the components of their language to generate a singular aural result that, often times, feels as if it had a three-dimensional tactile element to it.
The six pieces that form "Zodos" reveal two performers in peak form, each of whom displays his abilities to the fullest, at the vanguard of repertoire development for this particular instrumentation.