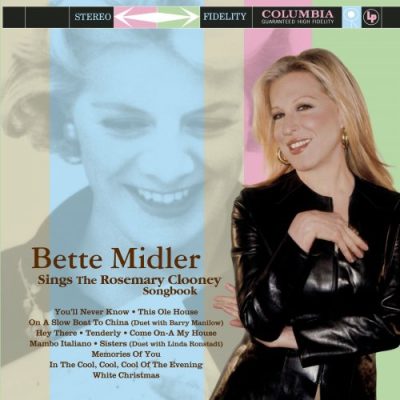 Artist: Bette Midler
Album: Bette Midler Sings The Rosemary Clooney Songbook
Label: Columbia
Year Of Release: 2003
Format: FLAC (tracks)
Tracklist:
01. You'll Never Know
02. This Ole House
03. On a Slow Boat to China
04. Hey There
05. Tenderly
06. Come On-A My House
07. Mambo Italiano
08. Sisters
09. Memories of You
10. In the Cool, Cool, Cool of the Evening
11. White Christmas
Cabaret icon Bette Midler reunites with her old piano partner Barry Manilow for the first time in over 30 years to toast one of their mutual idols on Sings the Rosemary Clooney Songbook. Clooney was one of the top jazz/pop vocalists of the '50s whose clear, bright tone, impeccable melodicism, and smiling, girl-next-door image came together to make classics out of tunes like "In the Cool, Cool, Cool of the Evening" and "Hey There" – both covered here. In that tradition, Midler's plucky blonde persona and genre-crossing style and Manilow's modern day blend of Mercer and Porter make this album work – most of the time. Mostly what you get is the Divine Miss M and "Mister Manila," as Midler affectionately refers to Manilow, returning to their '70s New York roots on "On a Slow Boat to China," a solid and classy version of "Sisters" with Linda Ronstadt taking the Betty Clooney role, and a very Dixie Chicks-esque contemporary bluegrass reworking of "This Ole House." Least of all, you get limp, hip-hop-lite arrangements of "Come On-A My House" and "Mambo Italiano," which only serve to drain the songs of any swing and makes the twee-period lyrics all the more cloying. Nonetheless, Midler – who can carry a tune on personality alone – sounds elegant and alive here and Manilow's classy orchestral arrangements frame the proceedings with the urbane glow of nostalgia for a time – be it the '50s or the '70s – when a big band, a great song, and blonde with a nice voice were all you needed for a good time.