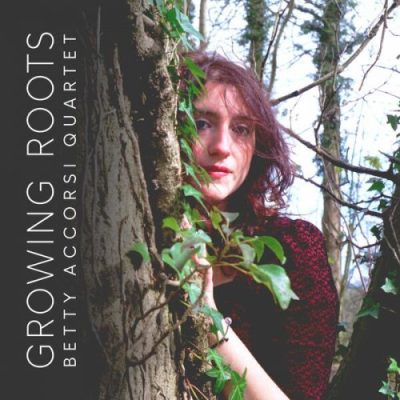 Artist: Betty Accorsi Quartet
Album: Growing Roots
Year Of Release: 2022
Format: FLAC (tracks)
Tracklist:
01. Ampollo
02. Looking At The Horizon
03. Like A Tree
04. King Arthur Walks In Rottingdean
05. Lively House
06. Blue Wave
Personnel:
Betty Accorsi: saxophone, soprano;
Daniel Hewson: keyboards;
Andy Hamill: bass;
Scott MacDonald: drums.
The second album from Italian born, British based soprano saxophonist Betty (Elisabetta) Accorsi's quartet confirms what was already apparent on her debut, The Cutty Sark Suite (Betty Accorsi Music, 2020). That is, here is a young musician and composer of outstanding talent who is destined for the big stage.
There is nothing radical about Accorsi's music, unlike that of many other musicians of her generation who have passed through London's Trinity Laban Conservatoire and now dominate the city's alternative jazz scene. Accorsi's is simply elegant, superbly crafted, sumptuously melodic jazz not afraid to give the drummer (and the bassist) some when the moment demands it. Accorsi first studied classical saxophone at Conservatoire Giuseppe Verdi in Milan and maybe that has something to do with it. But whatever. The bottom line is jazz with class, nuance and sinew. With this, Accorsi brings to mind the rising star of another Italian expatriate, bassist Ilaria Capalbo, whose Karthago (Bluenord) launched 2022 with fireworks.
The six tunes, all Accorsi originals, are based on particular artefacts and locales in and around Brighton, a town on Britain's south coast which is colloquially known as London-by-the-sea and which is where Accorsi lives. There is a stained glass window in the faux rococo Royal Pavilion, the sea, a tree she associates with a significant other, a bucolic village, a convivial pub, and a beach. Helpfully, Accorsi has taken photos of all six of these prompts and put them on an insert. The music's vibe is as varied as the subject matter of the photos, taking in richly coloured pomp and bombast, Pat Metheny Group-like soundscape, the Great American Songbook, John Surman-ish pastoralism, Weather Report-inspired jazz funk and Björk, all of it essayed with conviction. At some point, Accorsi may need to tighten her focus— brand success usually requires at the most just two sales propositions—but one hopes she will not rush to do that.
The band here is completed by keyboardist Daniel Hewson, bassist Andy Hamill and drummer Scott MacDonald. The last two also figured on the aforementioned The Cutty Sark Suite, and all three musicians—that is, all four, including Accorsi—are stonkingly good, individually and as a unit.
Postscript: It is rare to hear a sophomore album which lasts only forty-five minutes, and which also leaves one wanting more. Most sophomores lumber on for an hour or seventy minutes for no apparent reason other than to prove they can do it. Less, however, is almost always more. John Coltrane wrapped up A Love Supreme (Impulse, 1965) in thirty-three minutes. It is a shame more up and coming musicians in this digitally bloated age do not take his example on board. Aside from Accorsi (and Capalbo while we are on the subject), another bright new star who has it is tenor saxophonist Oded Tzur, whose second ECM album, 2022's Isabela, confirms the arrival of a musician of Coltrane-like dimensions. End of rant.
By Chris May