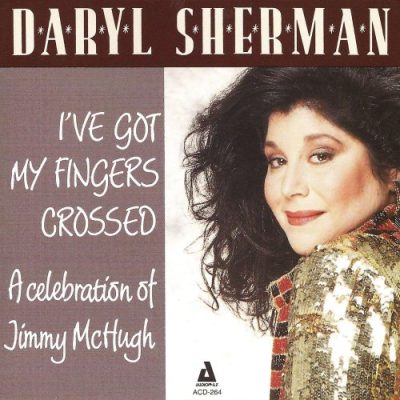 Artist: Daryl Sherman
Album: I've Got My Fingers Crossed – A Celebration of Jimmy McHugh
Label: Audiophile
Year Of Release: 2014
Format: FLAC (tracks)
Tracklist:
01. I've Got My Fingers Crossed
02. Top of the Town
03. I Just Found out About Love
04. Never Trust a Dream
05. South American Way
06. Hooray for Love
07. I'm in the Mood for Love
08. I'm Livin' in a Great Big Way
09. Exactly Like You
10. Where Are You?
11. Doin' the New Low Down
12. Dream, Dream, Dream
13. You're the One for Me
14. On the Sunny Side of the Street
The fine swing singer Daryl Sherman pays tribute to composer Jimmy McHugh on this CD by performing 14 of his tunes, ranging from big hits to obscurities. Sherman sounds perfectly at home on such songs as "I've My Fingers Crossed," "South American Way" (introduced by Carmen Miranda), "I'm Livin' In a Great Big Way," "Doin' the New Lowdown" and "On the Sunny Side of the Street" among others. She is assisted on various songs by pianist Dave McKenna (otherwise Sherman is on piano), the reeds (clarinet, tenor and alto) of Ken Peplowski, veteran tenorman Eddie Barefield (on one of his final recordings), guitarist John Pizzarelli and bassist Jay Leonhart. The latter two occasionally join in with Sherman on vocal duets. Overall, this is an excellent tribute with plenty of subtle surprises.