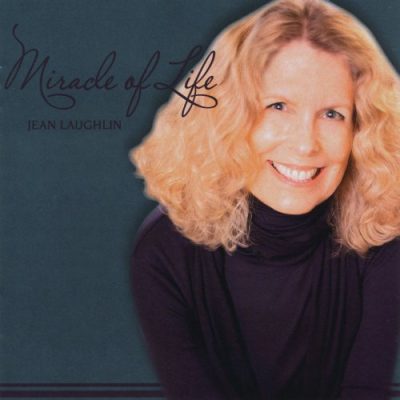 Artist: Jean Laughlin
Album: Miracle of Life
Year Of Release: 2012
Format: FLAC (tracks)
Tracklist:
01. What's Wrong With Being Lazy?
02. Blue
03. Fly Away With Me
04. Brave
05. Smile
06. One Person At a Time
07. I'm Movin' On
08. Here and Now
09. I Don't Know You
10. A Work in Progress
11. Miracle of Life
Jean Laughlin, who started singing music from an early age, discovered her skill as a songwriter in the 1990s. Miracle Of Life is her sixth recording as a leader and features her in prime form, both as a vocalist and as a composer.
If this were a different time period, say the late 1950s, Jean Laughlin would be a cinch to be signed to the Capitol label, both as a recording artist and as a staff writer. But since the music world is much different today, she is an independent artist who should be much more widely heard. Miracle Of Life finds her singing 11 of her originals, and several deserve to become standards.
Ms. Laughlin's lyrics are often philosophical and filled with worthy messages. Her melodies, which can work in both jazz and cabaret settings, are often memorable. And her voice is quite expressive, whether on swingers or ballads. Her confident delivery and wide range allow her to easily make interval jumps and her voice is so clear and attractive that one never has difficulty understanding the words that she sings.
Miracle Of Life, which features the singer in several different settings with a rhythm section led by pianist Frank Caruso, up to seven horns (with tenor-saxophonist Mark Colby and trombonist Tom Garling taking solos), and a string section on six of the songs, is full of variety. The opener, "What's Wrong With Being Lazy," which is about the joy of relaxing, is a highpoint but every selection is worth hearing. Other highlights include the pretty ballad "Blue," the upbeat "Fly Away With Me" (which has the singer overdubbing in spots to form two harmonized voices), "Brave" (a ballad worthy of Barbra Streisand), the celebratory "Smile," "Here And Now" (about the importance of letting go of the past and making every moment count) and the swinging ""Work In Progress." Throughout the set, the inventive arrangements of Jim Martin are a major plus.
Fans of high-quality singers, swinging numbers and heartfelt ballads will definitely want to discover Jean Laughlin and will certainly find Miracle Of Life to be quite enjoyable.