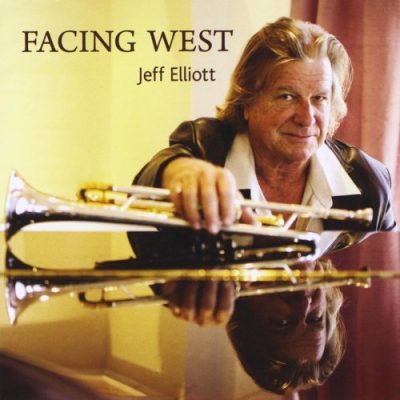 Artist: Jeff Elliott
Album: Facing West
Year Of Release: 2014
Format: FLAC (tracks)
Tracklist:
01. Magic Jazz Dance
02. Out of the Fog
03. Happy Village
04. Things Change
05. Mad Traffic Jam
06. Western Man
07. Mine Tonight
08. War Zone
09. I've Lived 100 Lifetimes
10. Resolution (feat. Ernie Watts)
Jeff Elliott – the trumpet leader – has been "jazz is in my veins" since his father, clearly a wise man, bought him a real trumpet in 1963. This album celebrates not only that gift of 50 years ago, but adds up to Jeff's life in music in the decades since.
These days, he decided to sum it all up, and this album reveals how much Jeff has in his veins because of those 50 years.
Back in the 1960s, Jeff's father made sure Jeff heard the records of Chet Baker, Miles Davis, Stan Getz, Jonah Jones, the high standard bearers and blowers of jazz then. But, when his father left the room, Jeff grabbed his own guitar and played along with The Beatles.
In high school, he dreamed of being a rock star, even if the school sat him in its orchestra's first chair, as first trumpet.
As Jeff Elliott grew into his twenties, he began thinking of himself as "a musical mutt," a guy with more than just one style and instrument in his repertoires. And to help this mixture, whether Mutt or purebred, Jeff was blessed with perfect pitch.
Jeff Elliott always craved being "in the band," whether it was a concert band or a jazz big band. Which didn't matter, because Jeff grew up playing professionally at least those two loves: jazz trumpet and rock everything. Over the years, he has blended those genres into his own styles, passions, and beliefs about music.
As Jeff matured, playing with his and other bands and appearing night after night with West Coast clubs out on the Pacific shores, his ears began to hear a fresh style of music.