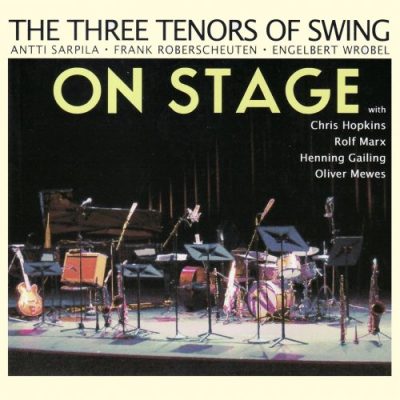 Artist: The Three Tenors Of Swing
Album: On Stage
Year Of Release: 2013
Format: FLAC (tracks)
Tracklist:
01. Bean Stalking (Idaho)
02. Shake It and Break It
03. Black and Tan Fantasy
04. The World Is Waiting for the Sunrise
05. Attibert Wropila
06. Jubilee Stomp
07. La Vie En Rose
08. South Rampart Street Parade
09. Lester's Bounce
10. Six Cats and a Prince
11. The Mooche
12. I Let a Song Go Out of My Heart
13. Till Tom Special
14. Misty Morning
15. Websterity
Inspired by their shared love of and enthusiasm for the swing – jazz and from pleasure and joy of making music together in this tradition , three of the most renowned saxophonist and clarinetist of the European jazz scene have joined forces : Antti Sarpila from Finland, the Netherlands Frank Roberscheuten and Engelbert Wrobel from Germany . With plenty of power and drive , they allow taking a look back at the big time of swing and inspire their audiences with skillful arrangements , mainly from his own pen , and exciting improvisations. All three soloists and stand for years before his own formations .
With a wink, taking the headline reference to the famous " three tenors " from the Opera area. "The 3 Tenors of Swing " but might as well "The 3 Clarinets " or "The 3 Altos Of Swing " hot , or they would have to imagine as "The 3 Reed Men Of Swing" , because these three protagonists are all multi-instrumentalists – everyone plays both tenor and another saxophone, and clarinet – and each of these instruments masterfully.
The sound on the CD is wonderful, the musicians delightfully inspired, and the repertoire varied. I was listening to it for the first time this afternoon, and when the disc was about halfway through, I stopped it, and said to myself, "I have to write about this right now. It is so good." It features Antti Sarpilla, Frank Roberscheuten, and Engelbert on reeds, with a rhythm section of Rolf Marx, guitar; Chris Hopkins, piano; Henning Gailing, string bass; Oliver Mewes, drums.