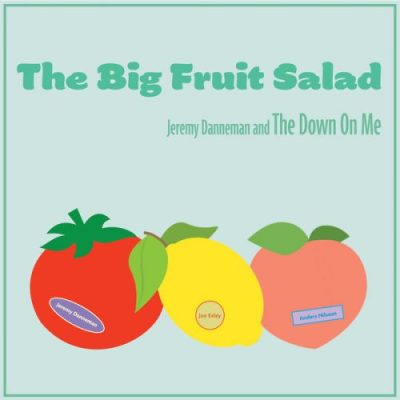 Artist: Jeremy Danneman
Album: The Big Fruit Salad
Label: Ropeadope
Year Of Release: 2022
Format: FLAC (tracks)
Tracklist:
01. The Big Fruit Salad
02. Zero
03. Mean Again
04. Lemon
05. My Peach
06. Now's The Time
07. Pretending To Believe You
08. Make Believe
09. Tomato
10. Let's Just Not Say
Personnel:
Jeremy Danneman – Vocals, Saxophone, Clarinet
Anders Nilsson – Guitar
Joe Exley – Sousaphone
The Down On Me is Jeremy Danneman's latest project and his first foray into singing and songwriting, with his previous bands featuring only instrumental music. Having been a literature major at New York University, Danneman had, in an earlier stage of life, aspired to become both a writer and musician. As reality set in, his ambition for bardhood was dropped to make more room for dreams of maestrodom, and it would be years before Danneman's desire to reach audiences with words would be rekindled. The Down On Me is named after a traditional American folk song, from the 1920s, though the most famous version was recorded in 1967 by Janis Joplin. As the name suggests, Danneman's songs explore the gulf between one's self-perception and outside perceptions of one's identity and the instability of one's self-image in the face of challenges from lovers, friends, and life in general. Some songs from the "Big Fruit Salad" represent the early stages of Danneman's work on a musical theater production about personified fruits and life on the fruit farm. In addition to lyrics, The Down On Me features the improvised instrumental component for which Danneman is already more known.
Jeremy Danneman is a saxophonist, clarinetist, and composer based in New York City. He is known for his albums, most recently Honey Wine, released on Ropeadope Records and his work as Founder of the Parade of One Project, which is an organization that engages the international community with a unique blend of performance in public spaces, recording, and educational programming. Danneman's work has been funded by the Puffin Foundation, the Mid Atlantic Arts Foundation, and the Goethe Institute of Kigali. He has performed internationally in Tokyo, Berlin, Rwanda, Zanzibar, Cambodia, Vietnam, South Africa, and the Dominican Republic, and has contributed to recordings with bands including the Mysterium Electric Soundpainting Septet, the New York Soundpainting Orchestra, El Pueblo, and Ulysses. Other notable musical collaborators include William Parker, Tim Keiper, Mike Clark, Brad Farberman, Danny Tamberelli, Anders Nilsson, Sophie Nzayisenga, and Arn Chorn-Pond. Danneman has also performed and composed music for multiple films, including Rwanda 15 directed by Kivu Ruhorahoza, which documents Danneman's street performances in Rwanda in 2009 and has screened on three continents, including its world premier at the 2010 Zanzibar International Film Festival and the 2011 Vision Festival in New York City. Danneman's work had been covered in international media, such as Haaretz, The Daily Beast, and the South African Broadcasting Channel. As an educator, Danneman has given guest lectures for the Ramaz High School (Manhattan,) The Royal University of Fine Arts (Cambodia,) the faculty of Baltimore County Community College, and more. He is currently a teaching artist for Midori and Friends. Danneman holds a BA in British and American Literature from New York University.
Anders Nilsson is a New York City based guitarist and composer. He plays electric and acoustic guitars and the 11-string alto guitar. He has performed and/or recorded with Mohsen Namjoo, Paquito D'Rivera, Elliot Sharp, Fay Victor, and Angelblood. Nilsson's work as a composer includes music for short films, dance, string quartets, and theater. He holds a Masters in Fine Arts from City University of New York.
Joe Exley is one of the most versatile and in-demand tuba players in New York City. Originally from Louisiana, he holds a masters degree in Tuba performance from Northwestern University. He has played in Carnegie Hall, Lincoln Center, and Radio City Music Hall. Exley has performed with TS Monk, Wallace Roney, Kevin Mahogany, The Dillinger Escape Plan, Bernard Purdie, Joe Lovano, and Kenny Werner. He also makes an appearance on Mindy Kaling's movie, "Late Night." His music has been heard all over network television, including ABC, CBS, NBS, BBC, PBS, and more.