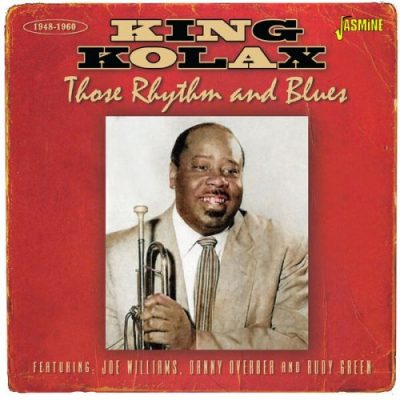 Artist: King Kolax
Album: Those Rhythm and Blues
Label: Jasmine Records
Year Of Release: 2023
Format: FLAC (tracks)
Tracklist:
1. Back Door Blues (03:28)
2. Straight Woman Blues (03:01)
3. Lonesome Man Blues (02:55)
4. Why Don't They Tell Me? (02:29)
5. She's Funny That Way (03:13)
6. Side Man (03:15)
7. Every Day I Have The Blues (02:36)
8. 40 Cups Of Coffee (03:10)
9. Fool Burro (02:52)
10. Love Is A Pain (03:19)
11. No Need Of Your Crying (02:33)
12. I Could, But I Won't (02:59)
13. Sorrento (02:33)
14. Stomp & Whistle (02:30)
15. Ebony Chant (02:49)
16. What Have You Done To Me (02:58)
17. Right Now (02:51)
18. Push Out (02:49)
19. Vivian (02:43)
20. Goodnite Blues (03:07)
21. Those Rhythm And Blues (02:41)
22. H2O (02:42)
23. Time (02:43)
24. Sleeping In An Ocean Of Tears (03:01)
25. They Call Her Rosalie (02:46)
26. Real Small Town (02:14)
27. Don't Look Now (02:28)
King Kolax, born William Little in 1912 is the subject of the next instalment in Jasmine's series of 'backroom boys of jazz, blues and R&B'. From early days he built himself a reputation as a trumpet player but was able to handle a vocal or two. This collection starts with both sides of a very rare 78 on Joe's Brown's short lived Opera label showing Kolax's ability as a blues singer. He & his orchestra stayed with Brown for two more releases this time on J.O.B. before they backed Joe Williams with his self overdubbed version of 'Everyday I Have the Blues' the Chess Brothers issued on their Checker label. Still on Checker Danny Overbea 'pops' up with his original version of '40 Cups of Coffee' before Bill Haley & the Comets got their hands on it.
Mabel Scott's latin-themed 'Fool Burro' follows featuring Kolax on trumpet & Red Saunders on percussion before Rudy Green's given a couple of Chances. Then there's four more Overbea Checker titles including his Italian version of 'Sorrento'.
Kolax next appears on VeeJay and of the eight titles recorded two were not issued at the time and four appeared later on a French Top Rank LP, all eight are issued together on CD for the first time and includes 'Those Rhythm & Blues' with Calvin Carter, the A&R head & brother of label owner Vivian Carter, who impersonates a female fan who wants to hear "those crazy rhythm 'n' blues." The misterioso latin instrumental 'Vivian' was probably named after Vivian Carter. The disc ends with four rare tracks from the late 50s all with a more modern feeling.
King Kolax is presented here as leader and supporting bandleader showing his musical diversity from the years 1948 until 1960.