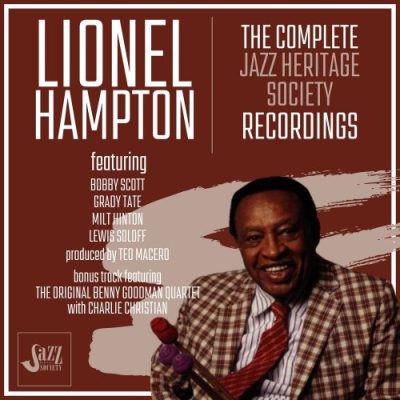 Artist: Lionel Hampton
Album: The Complete Jazz Heritage Society Recordings
Label: Jazz Heritage Society
Year Of Release: 2022
Format: FLAC (tracks)
Tracklist:
01. But Beautiful
02. I'll Be Seeing You
03. It Might As Well Be Spring
04. I Know Why And So Do You
05. Toot Toot
06. Lover Man
07. Autumn Leaves
08. Danny Boy
09. P.S. I Love You
10. Dynamic Duo
11. Fools Rush In
12. Pinch Me
13. But Beautiful
14. Bye Bye Blues
15. Someday My Prince Will Come
16. Take the A Train
17. Blues for Jazz Beaux
18. Walkin' Uptown
19. Honeysuckle Rose
20. Mostly Blues
21. Limehouse Blues
22. Gone with the Wind
23. Benny Goodman – Flying Home (NBC Broadcast, January 14, 1940)
Lionel Hampton was the first jazz vibraphonist and was one of the jazz giants beginning in the mid-'30s. He has achieved the difficult feat of being musically open-minded (even recording "Giant Steps") without changing his basic swing style. Hamp started out as a drummer, playing with the Chicago Defender Newsboys' Band as a youth. His original idol was Jimmy Bertrand, a '20s drummer who occasionally played xylophone. Hampton played on the West Coast with such groups as Curtis Mosby's Blue Blowers, Reb Spikes, and Paul Howard's Quality Serenaders (with whom he made his recording debut in 1929) before joining Les Hite's band, which for a period accompanied Louis Armstrong. At a recording session in 1930, a vibraphone happened to be in the studio, and Armstrong asked Hampton (who had practiced on one previously) if he could play a little bit behind him and on "Memories of You" and "Shine"; Hamp became the first jazz improviser to record on vibes.